A FAMILY ON MISSION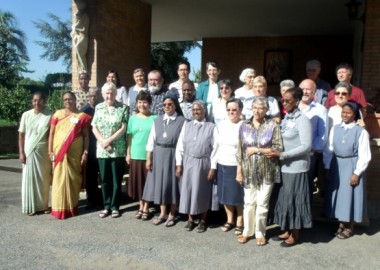 CONVINCED THAT COMMUNION IS POSSIBLE
A series of meetings of different groups in the Spiritual Family of Pierre Bienvenu Noailles took place at the Holy Family General House, Rome, from 18 – 26 September'.
The Council of the Family, 18 -21 September
The Leadership of the Association of the Holy Family of Bordeaux resides in the Council of the Family. It guarantees the unity and spirit of the Family and is the only body which can speak and decide for the Family as a whole.
It is composed of the three General Councils of Consecrated Life (Apostolic, Contemplative and Consecrated Seculars), the Intercontinental Committee of Lay Associates, and a representation from Priest Associates.
The Council meets to consider issues related to the Family, to maintain and strengthen our charism and to promote communion among the various vocations so that we may continue offering this gift to the world in new ways.
It reports on the status of each vocation and attempts to assess its life and influence.
It promotes meetings at different levels, encouraging joint initiatives for the common mission.
At the meeting this year the main objectives were to:
*review the impact of the 4th Congress of the Family held in 2012 and see how its guidelines might be reinforced and made even more concrete.
*advance in the understanding of our identity as Family
*reflect on how to celebrate the Bicentenary of the Association of the Holy Family in 2020
*look at how the Cause for Beatification of the Founder is progressing.
The Three Councils of Consecrated Life, 23 – 24 September
In the Holy Family we are blessed in having the three forms of consecrated life in the Church – Apostolic, Contemplative and Secular. There are elements common to all states of consecrated life, such as the Vows.
There are specific ways of living these elements in the different forms of consecrated life.
For Holy Family consecrated women there is also the call to live this life as members of one Spiritual Family, in communion with one another and with the other vocations.
The Council of the Secular Institute, 25 -26 September
The Holy Family Secular Institute has members in 18 countries in Africa, Asia, the Americas and Europe.
At their meeting, the members of the General Council reviewed the situation of the Institute in each country.
They also began preparations for their General Assembly due to take place in June 2016.