A Model for all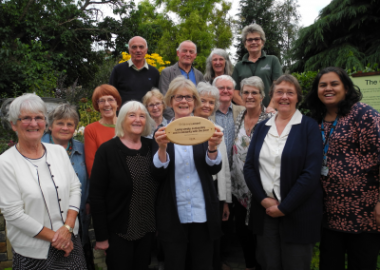 Norwich: Catholic Cathedral receives prestigious environmental award
The Catholic Cathedral of St John the Baptist in Norwich has become only the second cathedral in the country to receive a livesimply award, given in recognition of the parish's commitment to live more sustainably.
Inspired by their 2016 Lenten reflections on the Pope's encyclical Laudato Si' – a letter by the Pope addressed to the whole world encouraging us to care for the environment and the world's poorest people – the parish at St John the Baptist's felt moved to try and attain a livesimply award. Championed by the aid agency CAFOD, the award is given to communities who show they have been living simply, in solidarity with people in poverty and with creation. To date 27 parishes in England and Wales have been bestowed with the accolade, with only one other cathedral honoured, Brentwood cathedral.
Having decided to try and attain the award, the parish livesimply group started improving the environmental credentials of the cathedral. They made practical changes, such as changing most of the lights in the cathedral to LEDS, which saved energy used from lightning by a third. A garden of contemplation was created to provide a space for quiet in the city, volunteers began growing food in the cathedral garden for use in the café and all waste from the café is now used for compost.
To stand in solidarity with those in need, parishioners also organised a sponsored water walk, raising over £1000 for Malawi and Peru. Rucksacks were packed with toiletries and distributed to asylum seekers in Norwich, and parishioners also held reflections on the refugee crisis. After over a year of work and a rigorous assessment, the cathedral was awarded a livesimply award to the delight of all.
Joan McInnes, the co-ordinator of the parish livesimply group, said: "Working towards the livesimply award has been so good for the parish. It has got so many different people involved and built on what was already happening but given it sharper focus.
"It has touched every aspect of parish life – from the garden, where volunteers work together to grow food for the cafe, to young people's groups learning to care for creation, to the visitors who come to the cathedral."
Sarah Hagger-Holt, a CAFOD livesimply assessor, said: "The community at the Cathedral of St John the Baptist's should be proud to receive the livesimply award for the amazing work they have done. I was really impressed by how outward-looking this parish is. I'm delighted that St John's has become the 2nd livesimply cathedral."
Find out more about becoming a livesimply parish at www.cafod.org.uk/livesimply