A Personal Story
On celebrating a Golden Jubilee,




by Anne Kearney hfb
Let me tell you a story, the story of my life as a Holy Family Sister, celebrating this year my Golden jubilee.
My story began in Co. Derry and since then I have covered many miles, lived in various places and listened to the stories of many people on their journey.
I am the middle one of a family of three. My father died when I was two and this loss left its own mark on my life. When I was about eleven years of age I thought I might like to be a nun working on the Missions, helping the "black babies" (as we then called them). I got my inspiration from my mother who had a great love and concern for the Missions. I duly forgot about this until my last Retreat in Magherafelt Secondary School. There I realised in a deep way how much Jesus loved me. My response was to wish to return that love by becoming a nun. I loved dancing and my uncle gave me a week to stay but I have managed to reach the 50-year Jubilee and I still enjoy dancing.
On a Hallo'een evening in 1962, I arrived at the Postulate in Kilmacow, Co. Kilkenny. I was joined by 11 other young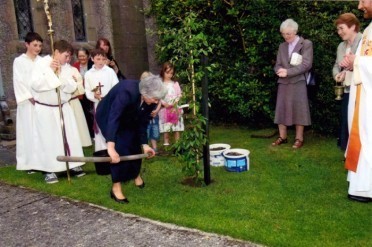 girls equally daunted by new rules, different clothing, and silence in the evening time.
Whilst I was studying in Dublin I was challenged by the appeal of Pope John XX lll who was asking for help for the people of Latin America. A part of me that had been somehow unconsciously waiting, sprang into response. After teaching for a couple of years in Magherafelt, followed by two years of theological formation in Brussels I was ready to go to Brazil in November of 1973. I spent seven years there and the people and their situation really changed my life and outlook. They are a warm, joyful, hospitable people in spite of much suffering, deprivation and negation of basic human rights.
Brazil was alive with energy for Liberation Theology when I went there and Team work with the Priests and lay people was a vital and enjoyable part of my time there. We were nourished by a vision for Ministry that asked us to listen to the people and their suffering, and challenged us to work together with them in their Basic Christian Communities. The Light of the Gospel allowed them to see themselves as important in God's sight even if they were poor and encouraged them to work together in Community for justice, dignity and a better life for all. Those who once thought they had no place within the Church because they were poor found their rightful place as God's special children.
I recall the plight of one woman whom I came upon when I was walking through the fields, having spent some time with the women picking coffee. This poor woman was corralled around into a very small holding. She lived with her son. The rich landowners had taken her land and fenced her in. I spoke to her as I passed. She said she wanted to give me something. She brought me out one egg. That poor woman will never know what she did for me. Her story like that of the woman in the gospel will be kept in her memory. That was Eucharist.
When I returned to Ireland I had to make a huge adjustment. I was used to living among the very poor who worked so hard to eke out a little nourishment to put on the table. It was hard to see so much waste and equally hard to adapt to a more conservative Church. After doing a 30-day Retreat I felt called into a deeper Prayer Life and in my ministry I knew I needed to let go of the control and let God do the work in me.
I was so blessed to have the opportunity of facilitating Woman's' Groups and Siol Retreats in different parts of Dublin. There we all shared our stories, found encouragement and hope, deepened our understanding of our human emotions and reactions, and felt the Presence of God in our sharings. The friendship from those groups and from other groups in Celbridge and Kilkenny has nourished my soul and my sense of meaning and Mission and is an important part of this year of Jubilee thanksgiving.
I was involved for some years with Adult Literacy. It grew out of listening to some women who had difficulty with writing and spelling. The ensuing stigma was something they managed with various coping strategies. One woman came to me week after week and shared her various stories of life in Dublin. We managed to get it written down and finally put into a book form with titles on all her stories. I was the person who received so much when I saw that woman get the confidence to take up Courses to develop herself, inspired by a new feeling of self-worth.
Over the years the call of Christ keeps inviting me into new areas of Ministry. Wherever I have worked I have been urged by the Spirit to facilitate the Week of Guided Prayer. This has been a source of great blessing. The greatness of God's love is revealed to me as I listen on a one-to- one to people's struggles lived out with faith and generosity. Being part of the Knock Prayer guidance has allowed me to meet people from all walks of life at their most vulnerable and happy times. It is a wonderful experience to be part of a team sharing our prayer, and united by a deep soul connection through our ministry with the Pilgrims.
For the last 16 years I have worked in Moneenroe, in the parish of Clogh, where I recently celebrated my Golden Jubilee. The love story that began in my early days has deepened, led me to be more tolerant and accepting and continues to nourish me through the different experiences of life. There have been some difficult ones but the most devastating was the loss of my niece to cancer last year. This year of Jubilee has been a wonderful time to appreciate, give thanks and celebrate all that has been given to me by God, family, community, parish and friends. I have been overwhelmed by the generosity of so many people, especially in this Parish and all I can do is say thanks to all and to a most loving and gracious God.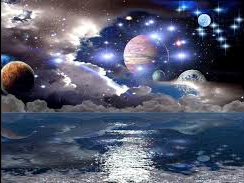 Most exciting of all today is the invitation to grasp the New 'Universe Story' and the call of Pope Francis to care for the earth, our common home and for the poor. Within our Church and world something serious is needed so that future generations may enjoy life on this planet, realise our interconnectedness with all of creation, and the sacredness,  wonder and beauty of all that exists. Something new is evolving in our world today even if at times it seems overwhelming with the plight of war victims, refugees, climate change and continuing famines in developing countries. I feel called into this new thrust to awaken to the New consciousness of God's Presence, made manifest visibly in the diversity of form within every part of creation and I pray that I will be open to the new that God can realise in me. I like the image of the Cosmic Dance where God takes the lead but also where each of us has a place that no one else can take, and where each of us is needed. In this year of Jubilee, I feel confident that the Christ who called me into the Dance of Love will keep a hold of my hand until I dance the Stairway to Heaven into that Great Cosmic Dance of light and love.