My Faith Story
Earlier this year I was fortunate enough to be invited to the Retreat centre in Crewe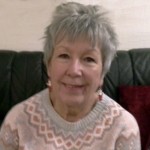 for the beginning of the 'Roots' talks which gave me a personal opportunity to gain a better perspective of how far my own roots in Faith have come over the years.
I was born in the North of England, baptised and attended the Church of England Sunday school regularly. The local vicar, Rev. Vasey, would tell us the stories of Jesus' love for us All. As the middle child of five and growing up during some very difficult times within our family 'love' was not shown a lot. Quite a few of my friends attended the local Catholic Church & school and I always felt that I should be going with them!
Many years passed. I left home and moved to the North West of England, got married and had 2 children. In 1985 both my parents died within weeks of each other and my marriage was at a crossroads. However, I felt a real inner strength to overcome the difficulties being thrown at me, an inner voice reassuring me. I persevered for some years (I think out of sheer stubbornness), until I felt a real urge to move forward with this 'inner feeling'.
A good friend of mine invited me to go to Lourdes, and although it was a lovely experience, the 'void' was still there. Later that same year I went to Medugorje and had what can only be described as an 'awakening experience' – I can't really put it into words. I did return however with a real 'hunger' for the Eucharist and the Catholic faith, so on my return home I went to the local Catholic Church to ask the local priest about becoming a Catholic. I was initially told that he had no-one else taking instruction at that time, so while I was to go away and think seriously about it he took my phone number and would be in touch. A few weeks later prayers were answered and thankfully, the priest rang and said that another lady had also made a request for instruction and could I attend the following week? I looked upwards and said "Thank you Lord"!
I'd like to say that during my faith journey I have always been drawn to 3 Saints and include their prayers each day:
St. Augustine – "I beg You, My God, let me know You and love You so that I may be happy in You".
St. Ignatius – "Teach me to serve You as You deserve".
St. Alphonsus – "I believe that You are present in the Most Holy Sacrament of the Eucharist".
It was 6th April 1996 – the Easter vigil when I took my first communion of the Eucharist as a convert to the Catholic Faith. The Reading for the mass was 'Ephesians 3 v14-21 "Paul's Prayer" – another convert! My family attended for that service and although they have remained Protestants and non-churchgoers they All support me in my service to the church and the Holy Family Association (my husband actually gives me the collection money each week for mass, as well 20p's for candles!).
It was also in 1996 that I was introduced to the Holy Family Association in Rock Ferry and under the guidance of Sr. Eileen Coyne and with the assistance of Monica Maher, over the course of 2 years took instruction and then, along with 5 new friends, made my commitment to the Holy Family Association in 1998 (my husband once again attending the service in the Convent chapel at Rock Ferry – I know there's hope for him in the Lord's time!).
Today I feel very Blessed and thankful for Pierre Bienvenu Noailles bringing together the 5 vocations of the Holy Family Association, as we support each other with our spirituality, guidance and friendships. The gatherings we share are proof that we have a strong affiliation but we still have room to grow not only in numbers but within ourselves. The Faith talks have certainly been an inspiration for me and opened my mind more to things happening all around me and being grateful for everyday living – sights, sounds, nature, people and reaching out to possibly make a difference in someone else's life each day.
Although my faith journey has had a lot of ups and downs, my faith is extremely important to me today. I really appreciate the 'inner voice' that urged me forward when it did. The friends I have had on the paths I have taken on my journey over recent years are truly friends for life and even though we don't see each other regularly, I know and trust that their thoughts and prayers are given and returned unconditionally.
Every day on waking, before getting out of bed, my prayer is – "Dear Lord, I thank you for the gift of this day and I pray that You'll be with me as I work, rest and play".
Today my Faith journey is thankfully being continued with a good support network of Family and Friends in the Holy Family Association.
Margaret Ramsey
Holy Family Lay Member