Publications
BIOGRAPHIES OF FR. NOAILLES
Father Noailles and the Association of the Holy Family: The Story of a Charism,
by Raymond Darricau and Bernard Peyrous, 1992, pp. 329, translated from the French.
A good man has passed this way: Life of the Venerable Pierre Bienvenu Noailles,
by Sr. Marie-Bernard Flanagan hfb, 1992, pp. 193
FR. NOAILLES: A Prophet for Today
By Bernard Peyrous, 2001, pp. 143
VIRTUES AND SPIRITUAL COUNSEL FR. NOAILLES
by Eugene Baffie O.M.I.
Translated from the French, 1908 485 pp.
SELECTED TEXTS of Pierre Bienvenu Noailles
Related to the CONSTITUTIONS of the consecrated members of the HOLY FAMILY,
Rome, 27 October 1986
SPIRITUAL GUIDE FOR TODAY
Pierre Bienvenu Noailles,
Rome, 8 February 1988
SHORT BIOGRAPHIES OF SOME OF OUR FOUNDING MOTHERS
Memoirs Collections – Holy Family of Bordeaux
by Arlette Narran hfb
The First Days
Mother Trinity (Catherine Aimé Noailles, 1791-1850)
Mother Marie de la Conception (Aglaé Pérille de Moléron, 1799-1839)
Mother Aloysia (Fanny Noailles, 1802-1884)
Collaborators
Mother Martha (Anne Alary, 1806-1887)
Mother Nativity (Adeline Trimoulet, 1798-1853)
Mother Xavier (Naomi Gautier, 1790-1859)
Weavers
Mother Marie de Jésus (Milady Péchaud, 1774-1838)
Mother Saint Charles (Mélanie Despect, 1811-1857)
Mother Saint Bernard (Octavie Daudigeos, 1814-1878)
Biography of Pierre-Amand Noailles, brother of Pierre-Bienvenu
Pierre-Amand Noailles, "The Little Father"
by Paulette Taudiére hfb
THE EUCHARISTIC MIRACLE
A Eucharistic Miracle
An Account and Testimonies of the events in Bordeaux, 1822
by Bernard Peyrous
Translated from the French, March 2005, 144 pp.
The Miraculous Benediction of 1822,
granted to the Holy Family of Bordeaux
by Claudine Ferrier, HFB, 1986
3 FEBRUARY 1822
by Claudine Ferrier hfb
MEMORIES by our FOUNDING MOTHERS
Memories of Martillac
by Mother Emmanuel Bonnat (1803 – 1882)
Translated from the French by Áine Hayde hfb
HOLY FAMILY MEMBERS WRITE
The Holy Family Sisters in Newbridge, 1875 – 2000
A publication to mark the 125th Anniversary of the Holy Family Sisters in Newbridge
by Maura Ryan (Lay Associate),
2000, printed by Donovan Printing Ltd., Newbriddge, Co Kildare
HOPE
For 'Street Children', A collection of poems
by Sr Margaret Bradley
printed 2001…
Please lend a hand, more poems
by Sr Margaret Bradley
printed by 'Monarch', Antrim, Northern Ireland, 20??
(Proceeds from the sale of these anthologies were donated to Help children living in the streets and Holy Family missions)
= NEWSLETTER 2020
November 2020 Volume 6 Issue 9
September 2020 Volume 6 Issue 7
June 2020 exceeds maximum upload size.
February 2020 Volume 6 Issue 2
September 2019 Volume 5 Issue 7
February 2019 Volume 5 Issue 2
NEWSLETTERS 2018
"
December 2018 Volume 4 Issue 10
November 2018 Volume 4 Issue 9
September 2018 Volume 4 Issue 7
February 2018 Volume 4 Issue 2
Our Founder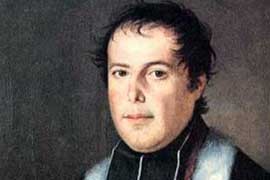 Pierre Bienvenu Noailles was an enthusiastic young priest of Bordeaux who, at the age of 27, began to found what he then called the Association of the Holy Family.
read more
Upcoming Events
<<
Jan 2021
>>
M
T
W
T
F
S
S
28
29
30
31
1
2
3
4
5
6
7
8
9
10
11
12
13
14
15
16
17
18
19
20
21
22
23
24
25
26
27
28
29
30
31