Cardinal Turkson at Vatican Biodiversity Webinar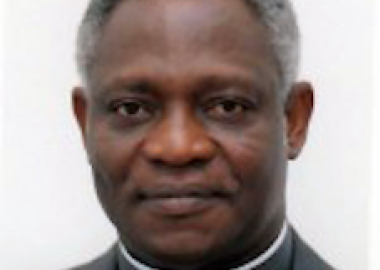 As Earth Day is being celebrated around the world today – we are publishing the text of Cardinal Peter Turkson's address at the Vatican Biodiversity webinar yesterday, 20 April 2021 – with a link to videos of the entire webinar and the Opening Prayer…
Your Excellencies, Ladies and Gentlemen, and My Dear Young People,
Thank you for your attendance and your interest in this Biodiversity Webinar led by the Dicastery for the Service of Integral Human Development on Biodiversity and the Vatican COVID Commission together with our partners. Today, we have the opportunity to meet together to re-contextualise our faith in light of the current crises affecting the whole human family.
In this webinar we are focusing on biodiversity. We shall examine these two points: the current context of multifaceted crises and the safeguarding of biodiversity.
Just over one year ago, we experienced the first shock wave of Covid-19. The Covid-19 pandemic has since led to a collapse of the world economy. In addition to this, the economic crisis has further widened the gap that already existed between rich and poor and Covid-19 is showing us that we need to re-orient our human systems with the poor at the centre of our concern so that everyone is looked after.
Given that Covid-19 is a zoonotic disease, the current pandemic alerts us to the fact that when nature is sick, humanity is also sick. There is an intimate relationship between the health of nature and the health of humanity. The health of humanity depends on that of nature. If nature is sick as a result of human-caused pollution or destruction, humanity also suffers. This shows that everything is interconnected and that the ecological crises originates from an anthropological crisis (LS 86, 101).
The Judeo-Christian tradition draws on the wisdom of Sacred Scripture that recognizes the diversity of living beings and the gift of all flesh and matter in creation. Biodiversity is God's creation. God creates every being, stars and animals, each according to its kind (Gn1,1s). In the Bible, biodiversity is recognized as actively participating in the greatness of God in the Cosmos. In the Social Teaching documents of the Church, biodiversity is recognized as the ongoing work of God's creation, a sacred gift from God. Each creature has intrinsic value and worth, and a purpose known only to God. Every creature reveals God to us and is a manifestation of God's glory.
Today there is a devastating destruction of God's gifts of Creation. The biodiversity on Earth; genetic, species and ecosystems are crying out to us. Each year sees the disappearance of thousands of plant and animal species which we will never know, which our children will never see, because they have been lost forever (LS 33). This is our ecological debt.
The cost of the damage caused by human exploitation of nature is much greater than the economic benefits that are obtained. Where certain species are destroyed or seriously harmed, the values involved are incalculable (LS 36). The extinction of mammals or birds is visible. But there are numerous species generally unseen who are destroyed: fungi, algae, invertebrates, insects, plants and reptiles and an innumerable variety of microorganisms (LS 35). How can we ever repay our ecological debt?
For ethical, moral and theological reasons it is incumbent upon us to safeguard the biodiversity on Earth. Globally, a framework for safeguarding biodiversity has been provided by the International Convention on Biological Diversity. The Convention on Biological Diversity recognizes the need for a multi-sectoral and transversal approach to ensure the conservation and sustainability of biological diversity. So far, little has been achieved and it is remarkable how weak international political responses have been (LS 54).
The Fifteenth Conference of the Parties to the Convention on Biological Diversity, which will be held soon, has as vision of a world living in harmony with nature, where, by 2050, biodiversity is valued, conserved, restored and wisely used, maintaining ecosystem services, sustaining a healthy planet and delivering benefits essential for all people.
Four goals are the focus: 1. Increase the area protected so that can be assured the connectivity and the integrity of natural ecosystem supporting healthy and resilient populations of all species and to reduce the number of species that are threatened and maintain genetic diversity ; 2. Value the nature's contribution to people, to maintain and enhance it through conservation and sustainable use supporting global development agenda for the benefit of all people ; 3. Share fairly and equitably the benefits from the utilization of genetic resources; and, finally, 4. Check the means of implementation to achieve all these goals and targets.
Thus, the task assigned to all of us is to reflect and find ways to meet these challenges (LS 217). The Church always raises her prophetic voice to provide a spiritual basis for reflection on the protection of the poor and this includes Earth's biodiversity.
The Church claims that humans are responsible for looking after nature. Human beings must respect the laws of nature and the delicate equilibrium existing between the creatures of this world (Ps 148:5b-6; Dt 22:4, 6). This imperative for care also extends to the teaching about resting on the seventh day, which is for human beings, and also to preserve creation (Ex 23:12) (LS 68).
Protecting biodiversity is primarily a human task. God directs us to "till and keep" the garden of the world (cf. Gen 1:28; 2:15). "Tilling" refers to cultivating, ploughing or working, while "keeping" means caring, protecting, overseeing and preserving. Each community can take from the bounty of the earth whatever it needs for subsistence, but we have a serious duty to protect the earth and to ensure its fruitfulness for coming generations (Ps 24:1; Dt 10:14; Lev 25:23) (LS 67).
There are clear actions for safeguarding biodiversity. Each creature must be cherished with love and respect. Flesh and matter has to be contemplated as the reflection of the glory of God (LS 86). We are being urgently called to develop and contribute to programs and strategies of protection with particular care for safeguarding species that are heading towards extinction (LS 42, 91, 92).
We are collectively called to undergo an ecological conversion (LS 217 e 219). Ecological conversion is a change in mentality and outlook: moving from a desire for control and domination to let go and surrender with an openness to encounter creation and to welcome each as gift; turning from a predatory gaze to a contemplative and loving gaze. This includes the awareness that every creature reflects something of God and ought to be respected by us (Mt 10:29 ; Lk 12:6) (LS 221).
Indigenous people are critical custodians of biodiversity. We need to respect and protect the first nations people and their way of life if we are to protect the natural world. The human family can learn much about caring for biodiversity through paying attention to how our Indigenous brothers and sisters see the world and live in reciprocal relationship with creation.
Concretely, to safeguard biodiversity, we can take action by planting trees and partner with organisations that care for land and seas. We must act together so that there is no more biodiversity loss and prioritize restoring degraded ecosystems, including on church land. We can grow Laudato Si' gardens, living chapels, support regenerative agriculture and agroecology practices that protect and nourish human and planetary health.
In conclusion, it is clear that the protection of biodiversity directly affects the social, cultural and economic dimensions of human life. We are called to embrace an integral ecological perspective and apply holistic thinking to reorient economies, education and policies so that we honour the dignity of the human person and integrity of creation, together. "May the power and the light of the grace we have received also be evident in our relationship to other creatures and to the world around us" (LS, 221).
Thank you!