Columban missionary calls for legislation to deal with sex slavery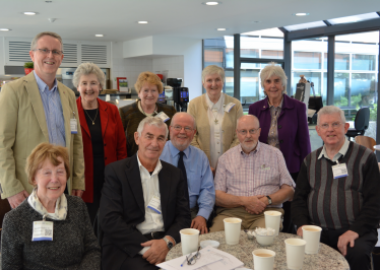 The risks and contrasts in the life of Irish Columban missionary, Fr Shay Cullen, were revealed during his inspiring presentation to TDs and Senators in Leinster House yesterday. He described how he was the subject of a recent death threat because of his work exposing human trafficking and the exploitation of women and children in the Philippines, whilst he has been nominated four times for the Nobel Peace Prize in recognition of his work through PREDA Foundation (People's Recovery Empowerment Development Assistance Foundation) which he founded in 1974.
Fr Shay was in Ireland for a short visit after receiving the AK Shalom Award for Human Rights by a German University. It has been announced in the Netherlands that he will be the recipient of the 2017 Martin Buber Plaque Award there later in the year.
He told Irish legislators that "The trafficking of women and children has become a very lucrative business as a modern version of human slavery that feeds the sex industry. Thousands of young women are victims of bonded slave-like labour in the sex bars that are licensed by local governments. These are mostly operated by foreigners and the customers are sex tourists from Ireland, the EU, North America and men from Asian countries are coming in their thousands. These men get addicted to underage sex and go back to their home countries to abuse children there" he said.
He praised the Irish Government for enacting The Criminal Law (Sexual Offences) Act 2017 which makes it an offence to offer payment to a prostitute for sex. "This deterrent is a positive change in the law. I have campaigned for this change to be made in other European countries, so it's good that Ireland is giving a strong lead".
"The latest development is using children for cyber sex" he said. "Prostitution and the exploitation of children through sexual abuse are being promoted by the very wide-spread availability of child pornography on the internet. Children are being made to perform sexual acts on live camera and streamed to paying customers. Horrific videos of small children being murdered on camera have been found on computers in Europe, America and Brazil. The Australian who was doing this in the Philippines has been arrested" he said.
He explained how "children being abused on-line live can be accessed and the Philippine law that demands the internet service providers to block and filter these images of child abuse and pornography is ignored by the companies and government officials".
He said that "Irish legislators can do two things to reduce such easy access to online pornography. They can introduce laws to force internet service providers to block access, and then, enforce these laws. Laws without enforcement are meaningless. The Filipino Government introduced such a law – Republic Act 9775 or the Anti-Child Pornography Law – but it is fails to enforce it because there are too many vested interests profiting from the sex trade".
Warning other countries, he said they "need to wake up to the risk and danger posed to their children by their own citizens who travel to the Philippines to experience sex with children and young girls. What will these men seek out when they return home? Paedophilia is a global business that is being fed by sex bars and brothels in the Philippines and other places".
His presentation was warmly welcomed by TDs and Senators, including members of the Oireachtas Foreign Affairs Committee, and by representatives of APT Ireland (Act to Prevent Trafficking) led by their co-ordinator, Sr Geraldine McCarthy. Deputies Sean Barrett and Maureen O'Sullivan indicated that they will initiate discussion within the Foreign Affairs Committee about human trafficking and internet controls, and investigate how the Committee could pursue these through similar committees in other parliaments and the Council of Europe.
Speaking to legislators is part of the global advocacy work that Fr Shay undertakes to highlight human rights abuses especially in the Philippines where he has worked since 1969. He has spoken in the German Bundestag on a number of occasions and their Parliamentary Committee for Economic Cooperation and Development has visited PREDA. He was an invited delegate to the conference drafting the Convention on the Rights of the Child in Helsinki, and has addressed the US House of Representatives Committee on International Relations on the issue of street children. He has testified twice before the Human Rights Committee of the US Congress.
Next month he will address a Fair Trade conference in Germany, and deliver two papers at a conference on Religion and Development: International Perspectives exchanged with Partners from throughout the World organised by the German Catholic Bishops' Conference.