Consecrated Life and Jubilee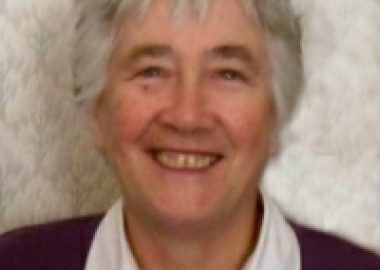 Reflection by Anne Kearney HFB at a Mass  in the Parish of Moneenroe/Clogh, in a combined celebration of her Golden Jubilee in the Holy Family Religious Institute and the Year for Consecrated Life
Like Maria in The Sound of Music I wonder where to start. So, I may start at the very beginning, not with my Story but with the One Story into which all of us fit whether Religious or lay. It is the Story of the Universe, the story of God's love that has manifested itself in stars and sun, seas and rivers, mountains, insects, plants and animals, and in all of us human beings, all connected and consecrated because created by God. All our stories fit into that one big story.
This evening we are celebrating Consecrated Life, and present with us are Sisters, Brothers and Priests from this Parish who have answered the call to follow Jesus and to be available to serve the way of the Gospel. The Holy Family Sisters who lived and ministered here, some of whom are living in Newbridge, regret that they cannot be here and send their best wishes to all. I have been asked to share something of my experience as I am celebrating 50 years in the Holy Family.
The theme for today's Mass is based on Jesus' words "I am the bread of Life, "and Jesus could not have chosen a more ordinary or homely or vital element through which to reveal himself. When I think of bread I think of the lovely wheaten bread that Bridie, my sister in law bakes, or what many of you have brought to us on occasions. Something nourishing, and can be shared around. What better than a cuppa and some good brown bread and jam. It sustains us on the journey. That's what Jesus says to us: I am the bread of Life. I would like to share a little on how Jesus , God, has nourished me over the last 50 years.
My vocation began in my own home with an awareness of the need to help the missions as it was called then – the black babies. I forgot about it until my last year in School. The Love Story began there with my realising in a deep way how much Jesus loved me. My response was to want to return that love by becoming a nun. I loved dancing and my uncle gave me a week to stay but I have managed to reach the 50 and still enjoy dancing!
Over the years I have tried to listen to that call of Jesus, in my own heart and expressed through the people and circumstances of my life. The Bread of Life has been given to me through so many people. Perhaps a couple of little stories are worth sharing! I went to Brazil in 1973. One day when I was walking back through the fields, having spent some time with the women picking coffee I came upon a very small holding where a poor woman was corralled around by a fence. She lived with her son. The rich landowners had taken her land and fenced her in. I spoke to her as I passed. She said that she wanted to give me something. She brought me out one egg. That poor woman will never know what she did for me. That was Eucharist for me. Sharing all you have.
The other story connects with the words of Jesus in the Gospel today. The disciples ask Jesus "What is working for God"? Jesus' answer is, "This is working for God. You must believe in the One He has sent". For me through the joys and anxieties of life the sense of that loving Presence of God upholding me and there for me just as I am, faults and all, has kept me going as has the love, generosity, friendship and care of family, friends, community and all of you here.
I was involved in Adult Literacy in Dublin after I came back from Brazil. Many people there had great difficulty in writing and spelling. I remember how one woman week after week came and shared her story. We managed to get it written down and finally put into a book with titles on all her stories. I was the one who received so much when that woman got confidence to take up courses to develop herself and had a new feeling of self worth. Life is not made up of big things but of these precious moments shared on a journey. A helping hand! The gifts we have been given are for sharing.
My response to this nourishment that God has given to me is expressed here in the Eucharist this evening where together with all of you I can give thanks to God for the wonders and beauty of all of creation, the faithful presence of God through the ups and downs of life, the questions and disappointments, and for the friendship that we share here this evening. God continues to call us into something new as Pope Francis invites and I hope that you will pray for me and for all of us, Religious and Lay people, that we may respond to the call of God to-day to care for our Earth, and for the poor so that future generations may have Life in abundance, Bread to eat and, most of all, the Bread of Life
I say thanks to Fr. Tobin for making this evening possible and for His prayer and support over the years and especially in times of sorrow in the family.
Thanks to all who prepared this celebration in any way, the Pastoral Council, Lil and Frances and all of you who have given your time setting up the hall or baking, those who have worked behind the scenes, helped with the Booklet and especially to Anna and Michael for their generosity in changing their plans to provide hospitality and refreshments for us this evening.
Special thanks to our wonderful choir who have cheered our hearts and souls with their beautiful singing and on other occasions have gone all the way to Armagh or Derry.
Most of all, thank you all for coming here, the people of Moneenroe/Clogh , the Religious from this area, the Holy Family Sisters, and especially family and friends who have travelled such a long distance.
May God's blessing be on each one of you. Enjoy the evening and let's join the music and dance!