Direct Experience of Climate Change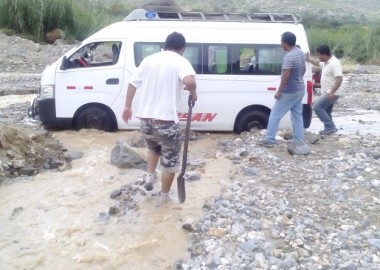 Climate change affects us directly, as Holy Family Sisters in Peru experienced.
In Peru, at least 72 people have died within a few days as a result of floods and landslides caused by heavy rain.  These were the worst floods in 30 years and affected over half the country.
A state of emergency was declared in over 800 towns and villages.
Climate change certainly affects us directly and you are about to see how.
Karina Miranda writes:
Some Sisters from Lima were travelling to Chiclayo, which is on the Pacific coast about 769 kilometres away, to be with Silvia Elena Coronel for the funeral of her mother who had died some days previously. When we were returning to the house after the funeral, the buses left us in the centre of Chiclayo. It had rained so much that we were up to our knees in water.   Hoping that the rain would stop we got on a bus to return to Lima at 11.30 pm and then waited until 5.30 am. The buses could not move. Eventually we were told that a bridge had collapsed near Chimbote and that no buses could go to Lima.  We walked for about 2 hours to get a connection. Finally a minibus brought us to the other side of Chimbote but unfortunately the bridge there had been destroyed an hour earlier and we had to return to Chimbote.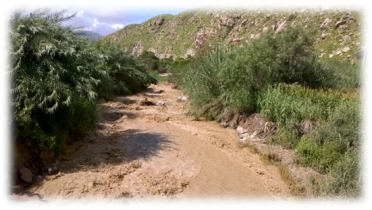 It was now about 6pm.  We went first to Mary Narro's family home and then to the stadium.   There we found all the people from North Chiclayo, Piura, Tumbes, Cajamarca, Trujillo, etc. as well as some tourists from other countries. In all we were about 500 people waiting to be evacuated by land or sea.  Finally they began to evacuate pregnant women, women with children and the elderly.  But we were left. We managed to get Isabel Tamayo on to a small air force plane.  Mary Narro, Cintia and I set out and continued travelling, sometimes on foot, sometimes by motorbike taxi, sometimes by minibus etc., until we arrived in Lima.
It took us 4 days to travel from Chiclayo to Lima but it was an unforgettable experience.   Not only did we see almost the whole coast of Peru in a state of emergency, houses and bridges destroyed, entire towns like Huarmey, Casma, Santa, Cosco, Barranca etc. flooded but we were able to experience this with the people, sleep in the stadium with 4 to a mattress and eat meals that had been prepared for us.  Of course, tuna was our staple diet.  So we arrived in Lima and lived to tell the tale.  The whole country is now in a state of emergency because the rivers of the north, south and centre have burst their banks.  For the past week it has not been possible to travel from Chiclayo to Jaén nor from Lima to Huancayo.  The rivers have overflowed and flooded entire towns. If I made a list of all the disasters it would be never-ending.  And we have no drinking water.
According to the latest news bulletin from the National Institute for Civil Defence, 72,115 people have lost everything or almost everything and 567,551 have been affected in some way.
So, my dear Sisters, that is what we have lived through and are still living through here in Peru. Your prayers, union and closeness have helped us a lot.  Please continue to pray for us.
NEWS from Jimbe
Before giving you the news, we would like to tell you where this town where our Sisters live is located on the map of Peru. Jimbe is the capital of the Cáceres district which is situated towards the interior of Peru.  There are 3 Sisters in that community: Nilda CHICO, Urszula MYSZAK  and Silvia Elena CORONEL.
We allow them to tell you about their experience:
We would like to share with you the situation of our district, especially Jimbe with its 36 hamlets, where we live and share our lives with the people.
The rains, which began in January and got heavier every day as a result of global warming, are affecting our lives.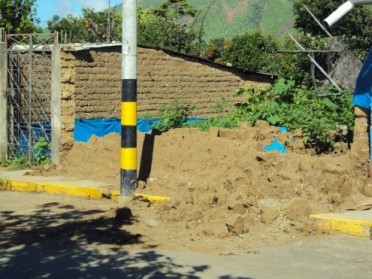 The rising water levels and the overflowing of rivers have caused and are still causing the flooding of populated areas.  Since the rivers come from the mountain this has also caused mudslides which have affected the harvest of the region and most of the farmers have lost all their crops.
The very heavy rain has dislodged the rocks of the mountains, destroying the roads and turning the water into mud.  36 hamlets have been cut off.  The water systems in most of the villages have been destroyed so there is no drinking water.  Many families have lost their mudbrick houses. The landslides and mudslides have carried away domestic animals as well as people, sometimes with fatal results.
Daily work consists of clearing water from the flooded houses and collecting plastic sheeting to protect the mudbrick walls.  The torrential rain also caused the complete breakdown of communications systems in our towns.  Electricity and telephones were cut off and the destruction of the roads cut off access to Chimbote, the town nearest to Jimbe.   We were also isolated because the main bridges were destroyed.
Shortage of food is another problem.  Added to all this is the loss of work, especially for those who depend on small farms to earn enough money to support their families.
Nilda CHICO  and Urszula  MYSZAK
Community of  Jimbe