of St. Josephine Bakhita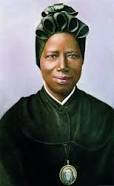 Saint Josephine Bakhita was born in Sudan's embattled Darfur region in 1869 and died in Schio (Vicenza, Italy) in 1947. This African flower knew the anguish of being kidnapped and slavery. She is the patron saint of Sudan. Pope Francis recently named Saint Bakhita as the patron saint for the victims of slavery and trafficked persons.
In Schio (Vicenza), where she spent many years of her life, everyone still calls her "our Black Mother". The process for the cause of Canonisation began 12 years after her death. In the year 2000 she was canonised by Pope St. John Paul II.
For more information, click here…