World Mission Sunday
ABUNDANT LIFE



(Theme for Mission Sunday 2015)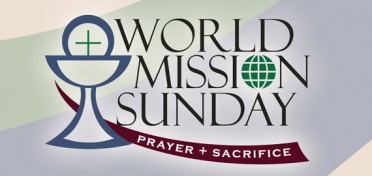 World Mission Sunday takes place on the second last Sunday of October each year.
Since 1926, the Church has traditionally remembered its universal mission during the month of October.
This year Mission Sunday will be celebrated globally on the 18th October 2015.
Pope Francis in his message for World Mission Day 2015 has this to say:
"Every baptised person is called to bear witness to the Lord Jesus by proclaiming the faith received as a gift. Since Christ's entire existence had a missionary character, so too, all who follow him closely must possess this missionary quality. As Vatican II stated: 'The laity should cooperate in the Church's missionary work of evangelisation, as witnesses and at the same time as living instruments, they share in her saving mission' (Ad Gentes, 41)."
The first to whom the Gospel message must be preached are: "the poor, the little ones and the sick, those who are often looked down upon and forgotten, those who cannot repay us (cf. Luke 14:13-14)." The duty of the Church is to help those in need. However, if the purpose of the Church is solely to care for the poor, to further justice and peace, then it becomes a human institution oriented to temporal goals. The primary mission of the Church is to preach the Good News of Jesus Christ so that all people will be brought into communion with the living God and into the fullness of the kingdom.
Caring for the poor is an important aspect of the Church's ultimate mission, that is, to invite "all people, scattered and divided by sin, into the unity of God's family, the Church… to become, in the Holy Spirit, his adopted children and thus heirs to his blessed life" (Catechism of the Catholic Church, 1). Speaking to leaders of the apostolate of the laity in Korea, Pope Francis said: "Your gifts as lay men and women are manifold and your apostolate varied, yet all that you do is meant to advance the Church's mission by ensuring that the temporal order is permeated and perfected by Christ's Spirit and ordered to the coming of his Kingdom."
The Church's mission is concerned with both the temporal and eternal needs of people, an "integral development open to the Absolute." For Christ has brought ABUNDANT LIFE: "I have come so that they may have life and have it in abundance" (John 10:10). In his message, the Pope refers to the Pontifical Mission Societies (PMS): "The Missionary Societies of the Successor of Peter have a universal apostolic horizon to facilitate the spread of the Gospel which is 'the source of joy, liberation and salvation for all men and women.'