Help avert catastrophe in D.R.C.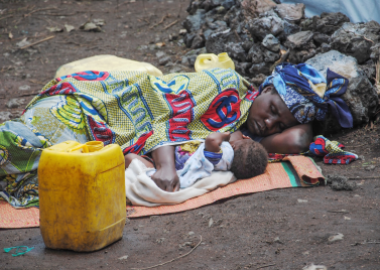 DR Congo: Funding urgently needed to avert catastrophe says CAFOD
At a UN Pledging Conference on Friday, 13 April, in Geneva, international aid donors will be battling to raise the profile of an under-funded, and worsening humanitarian crisis in the Democratic Republic of the Congo (DR Congo).
Bernard Balibuno, CAFOD's country representative in DR Congo said: "Every day, families are facing the loss of their homes, schools and health clinics due to the horrors of conflict and violence which continue to spread across the country."
The current lack of funding is seriously hampering the ability of local and international aid agencies to urgently assist Congolese people in the greatest need. Last year the UN Humanitarian appeal was only 57 per cent funded.
Joining the high-level UN conference will be a delegation from the Congolese Catholic Church – the Church is playing a leading role as a national frontline humanitarian first responder; its long-standing networks can be found in every Congolese village, giving them access to areas that international aid agencies might struggle to reach.
Balibuno said: "It is critical that we act now; governments and international donors need to urgently support the funding gap. Without aid many vulnerable people will not survive."
The epicentre of the conflict is in the provinces of Kivu, Kasai and Tanganyika. The violence has led to 4.5 million people fleeing their homes over the past year, 7.5 million Congolese do not have enough food to eat, and more than 2 million children are at risk of severe acute malnutrition, leaving a population of 13 million in urgent need of humanitarian assistance.
Balibuno saw for himself the devasting impact the conflict has had on communities in Beni, in North Kivu.
"I met Kavuro, a single mother of four children who fled her village because a militia group – the Allied Democratic Forces (ADF) looted and killed people in her area. She is living with a host family from her church, but they are also very poor. In such a terrible situation, host families share their already limited resources with families like Kavuro's, despite seeing their own humanitarian situation deteriorate day by day.
"Most displaced families I met were surviving on just one meal a day."
Balibuno concluded: "The Congolese Catholic Church (CENCO) is supportive of this donor conference, calling for a 'humanitarian plan' to tackle the crisis in the country.
Support CAFOD's local partners responding to emergencies in DR Congo and elsewhere: cafod.org.uk/ert