Holloway Prison – End of an Era
The shock announcement last December that Holloway Prison was to close by Summer 2016, left almost everyone – staff and prisoners – baffled beyond belief. Holloway had the best inspection of any prison in London, there had been much publicity about the need to close Victorian prisons, yet Holloway is the newest of the lot – rebuilt in 1970s. More of that later but a little bit of its history may explain why Holloway has invariably been referred to by the press as 'infamous' and 'notorious'.
In 1830s the dreaded disease Cholera was rife in London. So many people died that there was a public outcry at the number of burials in the City, so land had to be found in a suburban area. A 20-acre site east of Camden was bought by the City Council for £4,000, to be used as a burial site. However, before the ground was used for its intended purpose, the disease waned.
Around this same time government Inspectors and Magistrates were severely criticising the conditions of the City prisons such as Newgate, as crime was worse inside the prisons than on the streets, so something different was needed. A new prison, based on the design of Warwick Castle was built in 1852 at a cost of £91,547. 10s. 8d. It was to be called the 'House of Correction for the City of London'. Over the entrance stood two Gryphons, symbol of London Corporation, and across the top the inscription, 'May God protect the city of London and make this place a terror for evildoers'. Holloway Prison was born. It had one wing for 60 female and three for 350 male prisoners. The motto of the prison was – 'Cleanliness is next to Godliness' – carried out with vigour for that era – the rule stated that prisoners must wash every day, feet once a week! Among the males imprisoned was Oscar Wilde, before being transferred to Reading Jail.
Holloway became an all-female prison in 1903/4, housing the famous and the infamous. Emmeline Pankhurst and other suffragettes were force-fed. Ruth Ellis, the last of five women to be hanged in Britain, met her end here. Others included Constance Markeivicz, the Irish Nationalist, Diana Mosley wife of the fascist Oswald Mosley, Christine Keeler for perjury during the Profumo affair, Cynthia Payne who ran brothels to entertain MPs, Margaret Joyce, wife of Lord Haw Haw, for treason, Helen Duncan, the last person to be convicted under the Witchcraft Act, and more recently Myra Hindley, Rose West, Tracy Connolly – Baby P's mother, and many other 'notorious' women served time here.
As the years passed, it was recognised that the old Victorian prison was unsuitable for women. In the 1960s onwards, with developments in psychology, it was deemed that if women committed a crime they were 'mad' not 'bad', so a new type of prison, more on the design of a therapeutic hospital was needed. It was intended to mimic a model village to encourage pro-social behaviour. Over the 1970s, the present Holloway was built, becoming the largest female prison in Europe, with 550 residents. The only parts remaining from the old building, are the two Gryphons, but not the inscription! There are still 2 officers with us who had been in the old Holloway and saw all the changes take place. It's most interesting to talk to them.
Now, after 160 years, Holloway prison is closing down unit by unit, the women are gradually being moved on, and the building will be bulldozed. The land, originally bought for thousands is being sold for millions, to build up-market apartments and houses.
I wonder how much if any will be given for social housing
Buildings can hold memories and no doubt Holloway could write tomes of its history. However, for the women who have lived there, and have died there, no library could hold the pages of inner turmoil, of grief, of loss of hope, of low self-image, of chaotic lives, lack of parenting, sexual and emotional abuse, domestic violence and modern-day slavery. It would be impossible to capture also, the faith and depth of prayer that would put many of us to shame, the growth in self-acceptance, the appreciation of life and its gifts, the joy at being able to read for the first time, the feeling of freedom and security found inside the prison compared to the 'hell' lived outside.
I have been privileged to live my mission in Holloway for nearly 20 years. I can honestly say that it has been one of the most enriching, while most demanding periods of my life. The bottom line for me has always been to help the women to recognise their own worth and dignity, and those whose lives I have touched will I hope hold onto something of that precious truth. I have been blessed also to be part of a fantastic multi-faith team of chaplains and volunteers. To work in an environment of diversity, where there is respect and support, and most of all the good of the women we minister to, is I think rare.
Some of the team will move on to Downview Prison in Surrey, closed three years ago, which is being re-opened to house most of our women.
I have decided it's time to retire from this part of my ministry. I had hoped to do the full 20 years until April 2017 but now seems a natural time to call it a day. I will certainly miss Holloway, but for now our time is spent with women and staff who are coping with a sense of bereavement and loss of the familiar, and anxiety for the future. Staff have been re-deployed to other prisons, some of their choice, but others not so lucky. We had a wonderful Staff celebration afternoon, which was designed to lift the gloom, before half the staff moved to prepare Downview. With other retirees, I received a bouquet and certificate for my years of service. Loads of other funny awards were given, e.g. for the worst time-keeper (an alarm clock), the most changes of hairstyle etc.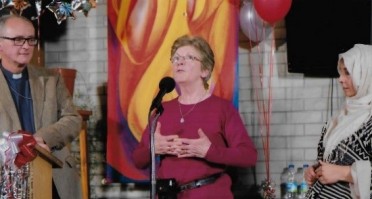 The afternoon concluded with a blessing by Ken (Anglican), Rukhsana (Moslem) and myself (left), – shown trying to teach the staff the Irish Blessing – 'May the Road rise to meet you'! It was very appropriate.
For the women, and some staff, we had an Ecumenical farewell service, on the theme 'Lord, for the Years', where some of the women performed a drama illustrating Holloway's history, and an opportunity for others to tell something of their 'stories' in Holloway. We used the reflection by Edwina Gateley. It was particularly relevant with the words:
"…in each brave and lonely story,
God's gentle life breaks through …
We felt the budding of creation
in the searching of each soul
and discerned the beauty of God's hand
in each muddy twisted path.
And God's voice sang in each story.
God's life sprang from each death.
Our sharing became one story
of a simple lonely search
for life and hope and oneness…"
I have had the privilege of being entrusted with many of these stories.
There have been lots of tears as friends separate and we do our best to reassure them that there will be familiar faces and support in their new place. However, nothing can replace a friendship that has built up over a shared experience of loss and fear which evolves into support and affirmation.
To date we have just under 100 women left, and all should have moved by the last week of June. Alongside the moving-out of staff and prisoners, we have the daunting task of getting new 'homes' for all our chapel furniture, sacred vessels, vestments and altar linen, which can only go to other prisons. I'm sure the neighbours wonder what's going on in our house, when I have the clothes line full of albs and altar cloths! Then the clear out of offices, where journals have to go to the London City Archives, and years of notes etc. to confidential waste or recycling, takes every spare minute.
Our designated final closure date is 17th July, with a barbecue in the prison garden on 16th for staff who may bring their children. Then the gates will finally be closed to all except security staff, until the bulldozers arrive. We have pleaded with some success to Islington Council, that at least some of our beautiful trees in the grounds will be protected. They will have imbibed something of the life and hope that has been the focus of rehabilitation in Holloway, and as the seasons change through future years they may offer life and meaning to the new residents of our site.
Sr. Kathleen Diamond HFB, retiring Roman Catholic Chaplain, Holloway Prison