Holy Family Association Pilgrimage to Knock, 12 June 2016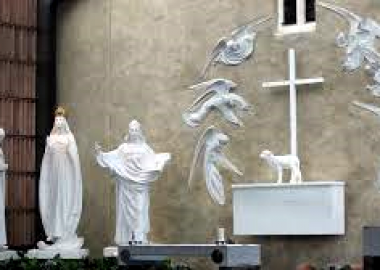 Homily at Eucharistic celebration
by Fr. Brian Kavanagh (Priest Associate)
The members of the Holy Family Association have travelled from different parts of Ireland to spend this day in this Holy Place.  The founder of the Holy Family Association, Venerable Pierre Bienvenu Noailles, had a dream of this Association while a Seminarian in Paris.  In my dream… the Holy Family appeared to me like a great tree, a kind of oak with verdant branches; in it were seen flowers and fruits of all seasons; there were birds of every colour, from every country. Each species had its own song, but every now and then they formed one single voice and in perfect harmony they seemed to say: 'Glory to God, glory to God alone, and all through Mary".
When he was ordained in 1820 and began his ministry as a priest in Bordeaux he founded the Association.  The Tree with its branches was the symbol of its meaning and life.  At that time, he saw five branches on the tree inclusive of all people: lay people, priests, consecrated seculars, contemplatives and apostolic sisters and, in 2012 in Newbridge, Co.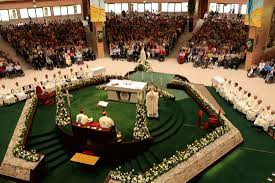 Kildare, another branch has been added, Holy Family Youth.   All these branches are nourished by the same sap and sustained by the same roots.  Venerable Pierre saw all people – old, middle-aged and young alike – journeying together and working together following in the footsteps of Jesus, Mary and Joseph.  Everyone here is a member of your own biological family.  You are also a member of God's family in your humanity; you are also a member of the Church's family through the sacraments of baptism, confirmation and Eucharist.  Each of you can also be a member of the Holy Family Association founded by Venerable Noailles in 1820.  This Association is still very much part of Ireland's life today and in other European, Asian and African Countries.
Venerable Pierre was inspired by the Holy Family of Jesus, Mary and Joseph and he saw them as the earthly Trinity.  They loved, sought and desired God Alone in all things, and we too are called to be motivated and inspired by them and to imitate them in our daily lives.  Now, today is an important annual visit to Knock, and Venerable Pierre would be very happy with us, because he often called the members of the Holy Family Association to find a solitary and tranquil place and to be alone with God, to enter into oneself and listen to God with faith, respect, love and gratitude.  We have the writings of many of the Retreats he led during his priestly life.  The one I have been reading, GOD ALONE RETREAT, was given in 1838… a long time ago, but still a life-giving message.  Throughout the 7 Day Retreat he called on the Participants to read extracts from the spiritual book, "The Imitation of Christ" and various passages from the Gospels.  That's at the heart of all our lives – the call to imitate Christ, to follow in his footsteps and for the Holy Family Association – to follow in the footsteps of Jesus, Mary and Joseph who loved, sought and desired God Alone in all things.
In this Jubilee of Mercy, Pope Francis wrote that God "desires our wellbeing and (God) wants to see us happy, full of joy and peaceful", and it is through "the mercy of God" that we experience God's "concern for each one of us".   We can be humble and hear the words written in 1838: "Our happiness is not in the possession of exterior things, but it is within us, in the peace which accompanies the reign of Jesus Christ.  Thus to establish in my heart the empire of Jesus Christ; to destroy all that is opposed to his will, and above all, to root sin out of my heart, that is the way to be happy in this life and in the next" (Card 305).  A beautiful prayer that Venerable Pierre asked his people to pray on the Second Day of the Retreat was: "Jesus, Son of Mary, our loving Brother, have pity on us" (Card 315).  This could be our prayer today.
Venerable Pierre and the members of the Holy Family Association lived out the corporal and spiritual works or mercy throughout his life as people in France recovered from the effects of the French Revolution.  At the beginning of the Jubilee of Mercy, Pope Francis wrote: "It is my burning desire that, during this Jubilee, the Christian people may reflect on the corporal and spiritual works of mercy" (n.15).  We are called today, empowered by the Eucharist represented by the Lamb, inspired by the Word of God held by St. John, and strengthened by Mary and Joseph as we listen to Mary's words: "Do whatever he tells you".
On the 6th Day of the Retreat, Venerable Pierre said to his listeners: "See this caterpillar crawling on the ground; the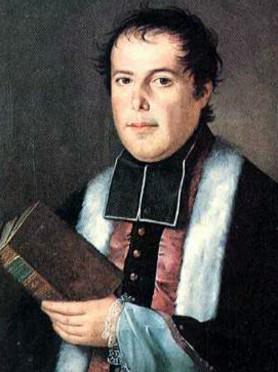 time will come when, despoiled of his ugly covering and transformed into a butterfly, she will display the rich colours of her wings and will go to draw from the flowers the sweetest perfumes" (Card 338).  This is his prayer for us today – that we will in harmony with nature be transformed into butterflies and that All Members of the Holy Family Association "will one day be clothed with a glorious body" among all the Saints, "savouring at leisure the purest delights of love of the Father, Son, and Holy Spirit.
St. Barnabas, companion of St. Paul and great missionary, dedicated his life to bringing people to an experience of God Alone, just as Pierre Bienvenu Noailles.  Both were people of faith, people guided by the Spirit.  Both people were not afraid to travel any distance to reach out to the poor.  They were prepared to travel calling on people "to love, seek and desire God Alone in all things".    His Spiritual Bouquet to be placed at the foot of Mary and the Holy Family on the 6th day was: "Holy Mary, ornament and joy of the Holy Family, pray for us".
Let us repeat that beautiful prayer 3 times.