Hundreds of Catholics meet MPs in climate change 'week of action'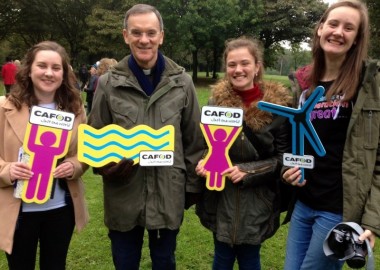 Hundreds of CAFOD supporters have met MPs in constituencies across the country as part of a 'week of action' on climate change and energy.
Parishioners and pupils around the country organised 35 events, ranging from constituency meetings to tea parties, and met with MPs including Prime Minister Theresa May, Chancellor Philip Hammond and former Culture Secretary Andy Burnham.
The CAFOD supporters were amongst nearly 4,000 people who took part in The Climate Coalition's 'Speak Up' week of action between 8-16 October. CAFOD is a member of The Climate Coalition, a group of 130 organisations representing around 15 million people.
16-year-old CAFOD volunteer Aaron from The John Fisher School in Purley met Climate Change and Industry Minister Nick Hurd. Aaron said:
"When we met Nick, I was very nervous but he encouraged me to share my ideas and feelings on climate change. I was surprised about how willing a government minister was to listen to a 16-year-old who did not yet have a vote or any influence whatsoever.
"This meeting helped me realise that whilst power may be held by ministers and MPs in Westminster, they are willing to listen to people who are trying to make an impact, regardless of age or authority."
Sarah Croft from CAFOD said: "The week of action has been a fantastic success with so many CAFOD supporters meeting their MPs. It's clear that people in England and Wales have really taken to heart Pope Francis's call to action.
"Catholics have been asking their MPs to call on the government to provide people in developing countries with renewable energy – the cheapest, most reliable and most effective way people in poor communities can access electricity. Renewable energy lifts people out of poverty by powering homes, schools, health clinics and businesses, whilst also providing an alternative to the polluting fossil fuels which are currently changing the climate and pushing people into poverty.
"We saw last year how politicians listen to the Church when Pope Francis's clarion call in Laudato Si', amplified by the voices of hundreds of thousands of Catholics, helped to secure the UN climate change agreement in Paris. We're delighted that CAFOD supporters are helping to maintain that momentum by making sure that the government acts on the Paris Agreement."
The week of action followed in the wake of the threshold being passed for the Paris Agreement's entry into force. The dual requirement of at least 55 countries joining the accord accounting for at least 55% of the emissions which cause climate change was met on 5 October. This means that the Agreement will come into effect 30 days later on 4 November.
Speak Up to your MP at: www.cafod.org.uk/oneclimate