Ireland: WMOF emphasises environmental protection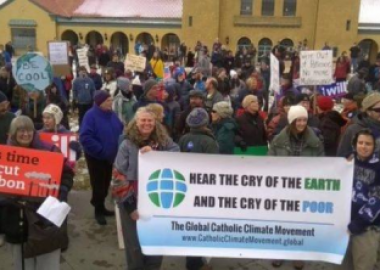 Sustainability was chosen as a key topic of the The World Meeting of Families, held in Dublin, Ireland from August 21 to August 26.
The emphasis on sustainability at the event is the latest in a steadily increasing stream of signals that the Church sees environmental protection as a top priority.
In July, the Vatican held a conference to celebrate Laudato Si' and discuss major events addressing ecology, such as the upcoming UN climate summit and the Synod on the Amazon. This conference followed a meeting with fossil fuel executives, at which Pope Francis told them "the Paris climate agreement clearly urged keeping most fossil fuels in the ground . . . energy use must not destroy civilization!"
In June, Cardinal Peter Turkson joined the Archbishop of Canterbury, the Ecumenical Patriarch Bartholomew, and other high-level faith leaders in signing a letter encouraging participation in the Season of Creation, a month-long celebration of prayer and action for the environment.
The World Meeting of Families further brought environmental protection into the center of Catholic life. The importance of sustainability to the gathering was reflected in a number of initiatives united under a highly visible 'Our Common Home' program.
These included:
• a dedicated 'Our Common Home' section on the World Meeting of Families website
• mounting a corps of volunteers to transform a parking lot into the 'Our Common Home' Garden at St Damian's Monastery with talks on biodiversity daily
• distributing sustainability guidance to all exhibitors
• distributing a creation-themed prayer for meal times to all pilgrims
• creating an "Our Common Home" tent in the teen space with daily workshops
• exhibiting a climate justice candle and photos in the main prayer space
• hosting an interactive beehive cell sculpture by world-renowned sculptor Imogen Stuart
To complement these initiatives with resources, pilgrims were invited to watch several videos.
The first, distributed by email to all pilgrims, prepared them to sustainably travel to and attend the meeting. The second, available on the World Meeting of Families website, was a video series depicting Catholic families already taking action, with a focus on transportation and home infrastructure. Finally, attendees of the Papal Mass that culminated the event today, were shown a video about Pope Francis' call to protect creation.
Jane Mellett, Project Coordinator for Our Common Home at the World Meeting of Families 2018, encourages families to care for creation together. She said: "Families are joy to the world, and by praying and caring for the Earth, our common home, we can deepen that joy. Pope Francis says that creation is the 'caress of God,' and stopping to unplug and connect with this beautiful gift is an opportunity to see God's love in every leaf and flower. We can slow down, spend time in nature, and focus on what really matters."
Mellett continued: "As importantly, by building a more sustainable approach to the environment, we protect those who share it, and the most vulnerable above all. It's important that we show our children that all of us can respond to the Church's teaching to protect creation, each in our own way."
Tomás Insua, Executive Director of Global Catholic Climate Movement, said: "All of us belong to the great human family created by God. Caring for our common home is a wonderful opportunity to love our sisters and brothers around the world who are urgently calling for solutions to the climate crisis. The World Meeting of Families is inviting us all to consider how we can build an integral ecology that cares for all members of the human family.."
The World Meeting of Families is a major international event, held every three years to encourage Catholics to reflect on the importance of life as a family. It is convened by Pope Francis and the Vatican's Dicastery for Laity, Family and Life, and this year's meeting is hosted by the Archdiocese of Dublin. The 'Our Common Home' program is guided by Pope Francis' statement in Amoris Latetitia that "In the family too, we can rethink our habits of consumption and join in caring for the environment as our common home."
Global Catholic Climate Movement is an international network of 650+ member organizations and tens of thousands of Catholics responding to Pope Francis' urgent call to protect creation and all who share it.
Read more about the Global Catholic Climate Movement: https://catholicclimatemovement.global