Prayer of the Day
Feast of Mary, The Holy Mother of God, New Year's Day – World Day of Peace
January 1st, 2016
"As for Mary, she treasured all these words and pondered them in her heart."
Luke 2 : 19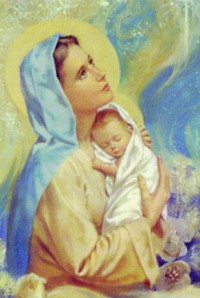 The shepherds have just said farewell to Mary and Joseph before returning to their hillside flock.  Mary was reflecting on all they had told her.   They had seen and heard choirs of angels singing and praising God.  These angels had told the shepherds they would find the "Saviour of the world,  Christ the Lord in the City of David wrapped in swaddling clothes and laid in a manger." (Luke 2 : 8)
So,  the first people to whom Christ revealed himself were the poorest of the poor,  men who were looked down upon by ordinary folk.  This shows God's predilection for the poor.  For Mary this was another affirmation that the Son to whom she gave birth was indeed the Son of God,  as foretold by the Angel Gabriel.
Prayer
Thank you Lord for giving us Mary as Our Mother. Through her great faith and love for God, your Word became flesh and dwelt among us. To God be glory forever and ever. Amen