Prayer of the Day
Feast of The Epiphany of the Lord
January 6th, 2016
"Three wonders mark this day we celebrate : today the star led the Magi to the manger; today water was changed into wine at the marriage feast; today Christ desired to be baptised by John in the river Jordan to bring us salvation, Alleluia"
Magnificat Antiphon of Evening Prayer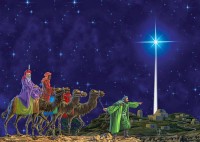 There is a sense of mystery about the visit of the Magi to the infant Jesus. Some commentators tell us that these men came from Persia and that they belonged to a group of magicians who were also experts in astrology, astronomy, and dream-interpretation. Some kind of inner call summoned them to make this extraordinary journey. We are reminded of the call of Abraham to leave his home and make a journey into the unknown. What followed for Abraham and his descendants was a growing consciousness of the one true God. The Magi represent the Gentile world who live in fear of powers greater than themselves which they call gods and which they try to control by ritual. Now that Jesus is born all this will change. So the Magi begin their journey guided by a star and end it guided by the scriptures. They bring gifts to Jesus and falling on their knees they adore him. Significantly we are told that they "returned to their own country by a different way." A real encounter with Jesus changes our whole direction.
Prayer
Spirit of Wisdom guide us on our journey through life. Keep our eyes always focused on Jesus. Amen