Prayer of the Day
Fourth Week of Lent – Feast of St. Perpetua and St. Felicity
March 7th, 2016
"The royal official said to Jesus; 'Sir come down before my little son dies.' Jesus said to him; 'Go, your son will live.'"
John 4 : 49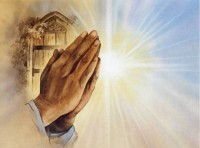 The Gospel readings this week are all taken from St. John.  Like the other three Evangelists,  John wrote his Gospel to proclaim the Good News that Jesus of Nazareth is the one sent by God to save the world.  His whole purpose in writing was to draw people to faith in that same Lord who rose from the dead and lives amongst us today.
Today's passage describes how Jesus healed the officials son who was on the point of death.  Unlike many other miracles Our Lord doesn't go to see or touch the little boy who is seriously ill.  Instead He,  asks the boy's father to have faith in the power of His Word when he tells him that his son will live.  The official believes and sets off home.
We can imagine how happy he was to be met by his servants with the good news that his little boy had recovered.  His faith was deepened and his joy increased when he realised that the fever left his child at the exact time that Jesus had told him his son would live.   No wonder he and all his family became believers.  What about us?  Do we believe that 'the Word of God is alive and active' today? That it is just as powerful today as it was when Jesus said to the official; 'Go,  your son will live' ?
Prayer
Lord I believe that you are the same yesterday, today and forever. Increase my faith in the power of your Word. May your Word be my light and my strength. Amen