Prayer of the Day
Fourth Week of Lent – Feast of St. Frances of Rome
March 9th, 2016
"Jesus answered the Jews; 'My Father is still working and I also am working."
John 5 : 17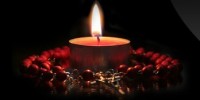 "For this reason the Jews were seeking all the more to kill Him because He was not only breaking the Sabbath but was calling God his own Father." (John 5 : 18)  Jesus had a very special relationship with his Heavenly Father.  We could say his whole life was devoted to doing his Father's will.  He spent long hours,  sometimes whole nights in prayer,  in deep communion with his Father,  whom he addressed as Abba,  Daddy.   It was Jesus' familiar way of speaking about God as a loving Father which upset the Jewish leaders.  They saw God differently.  He was someone to be respected and feared,  to be obeyed as a servant would obey his master.  They certainly didn't think that God was pleased with this carpenter from Nazareth who ate with sinners,  cured people on the Sabbath and disregarded many of the regulations which they had added to the Ten Commandments.  In their fanaticism to remain faithful to God's law,  these leaders placed heavy burdens on peoples' shoulders. Jesus on the other hand had come to bring Good News to the poor and the oppressed.  For him faith was more important than legalism and mercy was certainly more important than any other consideration.
In this Jubilee Year of Mercy,  Pope Francis begins his letter with these words; 'Jesus Christ is the face of the Father's mercy.'  This is our faith and we are called to proclaim this mercy in all our relationships especially towards those who are most in need of compassion and comfort.
Prayer
"Be mindful of your mercy, O Lord, and your steadfast love, which you have shown from of old." Amen (Psalm 25 v.6)