Prayer of the Day
Feast of St. Andrew, Apostle
November 30th, 2016
"And he said to them; ''Follow me and I will make you fishers of men.'"
Matthew 16 : 26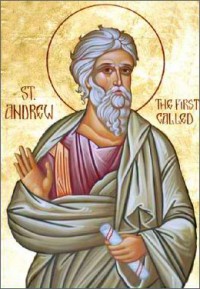 Jesus has started his public life and moves to the lakeside town of Capernaum. There he invites two fishermen brothers, Peter and Andrew to follow him. They do not hesitate but leave everything and follow him. You wonder what they were thinking as they took their first steps in their new life. Whatever it was, they would stay with him to see it through.
St. Andrew from Bethsaida was a disciple of John the Baptist when he was called by Jesus.  He in turn brought his brother Peter to Jesus.  He is said to have suffered martyrdom by crucifixion on this date,  but the tradition of an X shaped cross is much later.  He is Patron of Scotland,  Russia and fisherman.
Prayer
Jesus, may we always listen to your voice and may we follow you in all our ways. Give us the courage of Peter and Andrew and like them may we learn your ways and live accordingly. Amen