Prayer of the Day
Daily Prayer
August 9th, 2015
"I tell you most solemnly, everybody who believes has eternal life."
John 6 : 47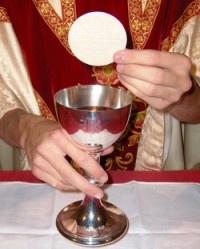 Believers, as used here, means 'continues to believe.' We do not believe merely once; we keep on believing in and trusting Jesus. The religious leaders frequently asked Jesus to prove to them why he was better than the prophets they already had. Jesus referred to the Manna that Moses had given their ancestors in the desert. That bread was physical and temporal: the people ate it and it sustained them for a day. But they had to get more bread every day, and this bread could not keep them from dying. Jesus, who is much greater than Moses, offers himself as the spiritual bread from heaven that satisfies completely and leads to eternal life.
Today's Scripture passage prepares us for the Eucharist, the sacred nourishment of Christ's body and blood. The Eucharist becomes our special nourishment for our journey towards the heavenly mountain of God. Jesus touches us with compassion and tells us to "get up and eat." We still have a long journey ahead of us, but we set out with humble confidence.
Prayer
Help me to become more aware of the gift of yourself which you offer me in the Eucharist. Amen