Prayer of the Day
Daily Prayer
December 5th, 2013
""Let the upright nation come in, she, the faithful one.""
Isaiah 26 : 1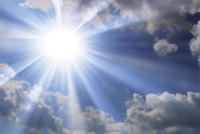 Advent is a propitious time to build our lives on Christ, our Rock Foundation. That we may be solidly founded on Christ, "he who comes in the name of the Lord", we need to live by his words and follow his heavenly Father's will. Our lives must correspond to the truth of faith that we profess. Today's Old Testament reading under- girds the Christian call for integrity in our faith. The prophet Isaiah speaks of God's promise of a "fortified city", built in response to the hope of the "poor". The gates of his "strong city" are open to the just and those who keep faith in him, but not to the proud and the tyrants. Isaiah refers to the Lord as an eternal "Rock", which is a metaphor for total dependability. Indeed, the Lord God will always protect the humble and those who trust in his saving word.
Prayer
Father, you are the eternal Rock, and you have built for us a "fortified city". By our faith in you and by a life founded on Christ, help us to proclaim to the world that "A mighty fortress is our God." You live and reign, forever and ever. Amen.