Prayer of the Day
Daily Prayer
June 2nd, 2015
""We put our trust in the Lord and he gives us peace.""
Antiphon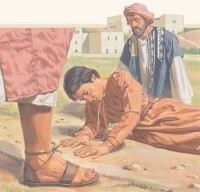 In today's Reading (Tobit 2 : 9 – 14) Tobit put his trust in the Lord when he was afflicted with blindness for four years.  All the remedies from Doctors did not help.  Tobit's wife and brothers were distressed,  but they rallied round him and were compassionate,  working to support him when he himself could not work because of his blindness,  he tried to be independent,  but,  tried to accept their help and kindness that the family and neighbours offered him with the graciousness that was a natural characteristic in his nature.
Psalm 3 describes the traits well in the words of this Psalm; "Happy the man who fears the Lord,  who takes delight in his commands.  His sons will be powerful on earth,  the children of the upright are blessed.  He has no fear of evil news,  with a firm heart he trusts in the Lord.  Open handed he gives to the poor his justice stands firm forever.  His head will be raised in glory."
Mark's Gospel (12 : 13-17) Jesus says; "Give back to Caesar what belongs to Caesar and to God what belongs to God."  This is Jesus' reply to the Pharisees and Herodians who tried to trap Him in his speech.  The wisdom and power of God above all earthly things proves that Jesus is the Son of God,  the Kingdom of God's reign on earth has begun,  this is the first priority of Jesus.   Where Jesus is, God is.
Prayer
May the Father of our Lord Jesus Christ enlighten our minds so that we can see what hope his call holds for us. Alleluia. Amen