Prayer of the Day
Daily Prayer
June 15th, 2015
""But I say this to you : offer no resistance to the wicked.""
Matthew 5 : 39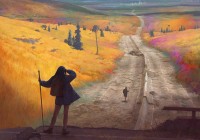 In the 1st reading  (2 Cor:1-10) St.Paul speaks of his experiences of service to his master: he describes long  ordeals of pain and suffering proudly born for the sake of the Kingdom. In our Gospel reading Matthew quotes the Beatitudes  ( the Sermon of Jesus on the Mount) and  describes even more physical sufferings to be endured patiently –again for the sake of the Kingdom.  Jesus tells us to turn the other cheek, to go the extra mile, to lend without return. This was to be the hallmark of Christians, their trademark. Do we measure up to this standard ?  "I like your Christ" said Gandhi, " and I would follow him, if I saw more Christians like him !"    
Prayer
Lord , teach us to act justly, to love tenderly and to walk humbly with you , our God.