Prayer of the Day
Daily Prayer
June 18th, 2015
""So you should pray like this: Give us today our daily bread ,and forgive us our trespasses, as we forgive those who trespass against us.""
Matthew 6 : 11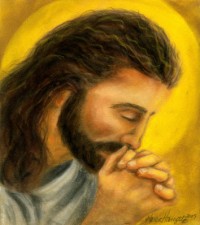 In the 1st reading, ( 2 Cor. 11: 1—11), the writer  Paul , acknowledges his dependence on God:  we are not to be led away by false notions—there is only one Jesus whom we follow, and as his fellow –workers we are to be independent.           
Similarly, Matthew recites the " Our Father,"  given by Jesus to the disciples,  which has also been acknowledged as a way of life. The  emphasis is on forgiveness and doing the will of the Father as it is done in Heaven.  Praying the "Our Father"  and asking him to be present in our hearts as we listen to him, we begin to realise his tremendous care for each of us. Through this we can respond to others in forgiveness.
Prayer
Let us pray for all who cannot relate to God as a loving Father because of experiences in their early lives; we ask God to show His care for all his children especially those who have had negative experiences of family life. Amen