Prayer of the Day
Daily Prayer
December 30th, 2013
""She, Anna came by at that moment and began to praise God; and she spoke of the child to all who looked forward to the deliverance of Jerusalem.""
Luke 2 : 35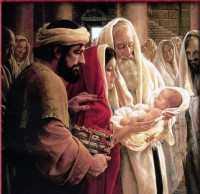 On this day Jesus was brought to the Temple by Mary and Joseph to be presented to the Lord.   The prophetess Anna happened to be passing at that moment.  Anna had lived most of her widowed life in the Temple,  where she spent her time praying and fasting and asking God to send the Messiah to deliver his people.   When she saw the child Jesus,  she was inspired by the Holy Spirit to realise that she was seeing the Messiah.  Like Simeon she also praised and thanked God for allowing her to live to see the Messiah.
St. Luke brings Anna to see the child Jesus in order to present the universality of the salvation brought to us by Jesus Christ.  Christ came for everyone,  not just for the rich,  the powerful and the learned.  No,  he came for all mankind.   Christ always had a very special love and concern for those on the margins of society.  These included the poor,  the miserable,  the sick,  the widowed,  those with no means of support.   All are his children,  all are in need of his special help,  his loving care.  God is the God of all people.   The child Jesus returned to his native village and lived there among his people for the next thirty years.   God's grace was in him as he grew in age and wisdom.
Prayer
May your love O Lord be upon us as we place all our hope in you. Amen