Prayer of the Day
Daily Prayer
September 22nd, 2015
"My mother and my brothers are those who hear the word of God and put it into practice."
Luke 8 : 21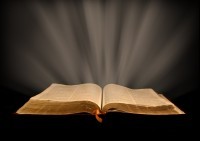 Most of what we know about Our Lady is found in St. Luke's Gospel.  In chapters one and two we read the beautiful story of how Mary was chosen to be the Mother of Jesus,  the promised Messiah,  how she responded positively and then gave birth to her son in a stable in Bethlehem.  Luke tells us that Mary didn't always understand as the mystery of her son unfolded but being a good disciple she "treasured the words spoken pondering them in her heart." (Luke 2 : 50)
In today's Gospel Luke sheds some light on Mary's role in her son's public ministry.  Like other relations Mary followed her son listening to his word and admiring his works of mercy.  It was during one such occasion that Jesus described his Mother as one "who hears the word of God and puts it into practice."   Mary is the perfect disciple and for Jesus this is even more important that being his Mother.   Luke had already presented Mary to us as a model disciple – someone we could imitate.  She was the first to hear the good news and accept it wholeheartedly as she declared herself to be "the handmaid of the Lord." (Luke 1 : 38)   And Mary didn't keep the good news for herself.  As a true disciple she set out with haste to visit her elderly cousin and share the blessings God had bestowed upon her. (Luke 1 : 41)   The Virgin Mary has been given many beautiful titles by the Church but the only one we an hope to imitate as Mary,  true disciple of the Lord.  Let us ask her to keep us listening to the word of God,  ponder it in our hearts and put it into practice in our lives.
Prayer
Lord Jesus you have given us Mary your Mother as a perfect example of discipleship. May her prayers help us to listen to your word with faith and share it joyfully with others. Amen