Prayer of the Day
Daily Prayer
August 26th, 2015
"Brothers and sisters do not be weary in doing what is right."
2 Thessalonians 3 : 13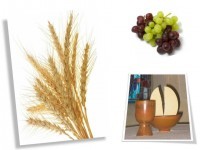 The Second Letter of St. Paul to the Thessalonians,  Paul's advice to Christians is to urge them to keep away from any of those who refuse to work or live according to the tradition passed on to them.  The example Paul gave,  he acted out of what he preached to the people,  he was by trade a tent maker and planned his programme to procure payment to pay for his expenses.  Paul had a great sense of fairness,  he knew about slaving day and night,  so as not to be a burden on anyone in order to be an example for his companions and Christians,  faithful to their beliefs.  Idlers had to observe Christian principles to prove their worth.  Paul proved what he did by writing his own letter!
Jesus' words in the Gospel of Matthew 27 : 27 – 32 for futher reflection.
Prayer
Lord God, in this bread and wine you give us food for body and spirit. May the Eucharist renew our strength and bring us health of mind and body. Thro Christ Our Lord. Amen