Prayer of the Day
Daily Prayer
November 5th, 2015
"I will sing forever of your love, O Lord."
Psalm 88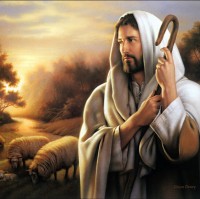 In the Old Testament God was referred to as 'The Shepherd of Israel."  Jesus referred to himself as 'The Good Shepherd.'  He tells us that anyone who does not enter the 'sheepfold' through the gate,  but gets in some other way is 'a thief and a brigand.'   The One who enters through the gate is the shepherd of the flock.  The sheep hear his voice;  one by one he calls his own sheep and he leads them out.  He goes ahead and the sheep follow him.  They recognise his voice.  The Shepherd gives his life for his sheep.
Christ gave his life for us.  Jesus loves us;  He calls each of us by our name.  So,  let us be present today to the Lord who speaks.  Hear Him teach us all about what it means to 'shepherd' those we meet.
Prayer
Lord, may we all be one flock with one shepherd. Amen