Prayer of the Day
Daily Prayer
November 20th, 2015
"My house shall be a house of prayer but you have made it a den of robbers"
Luke 19 : 46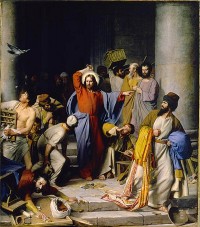 "They celebrated the dedication of the altar,  joyfully.  Now that our enemies have been defeated Judas and his brothers went to purify the sanctuary and dedicate it,  so they marshalled the whole army and went up to Mount Sion,  they celebrated for a whole week." (1 Maccabees 4 : 36 – 37) "We praise your glorious name O God,  Yours is the Kingdom,  you are supreme over all,  from your hand comes strength and power,  greatness and might."
Luke's Gospel relates the story of Jesus driving those who were buying,  selling and making my Father's house a den of thieves.  There is a similarity between the two Scripture readings giving emphasis to the holiness of all that is consecrated to God is sacred.
Prayer
Lord make us aware of you to-day and everyday of your presence in you and in each other. We are members of your body, we are the Church you began and continue through us. We pray for your life to flow into our lives through your prayer to the Father, may they be one in me as I am in you, in the unity of Trinity. Amen