Prayer of the Day
Daily Prayer
January 11th, 2016
"Repent and believe the Good News."
Mark 1 :14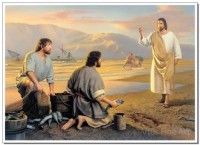 As Jesus was walking by the Sea of Galilee he saw Simon and his brother Andrew casing a net into the lake for they were fishermen. And Jesus said to them, ''Follow me and I will make you into fishers of men.'' And at once they left their nets and followed him. Going on a little further he saw James son of Zebedee and his brother John; they too were in their boat, mending their nets. He called them at once and, leaving their father Zebedee in the boat with the men he employed, they went after him.
The call is compelling, no preparation. The first disciples' response is total commitment.  Emphasis is on discipleship leaving behind family, social security, but they went after him.
Prayer
God, our Father, in our lives, we ask Jesus' presence to be with us. Amen.