Prayer of the Day
Daily Prayer
January 8th, 2014
""I myself will tend my sheep. As a shepherd tends his flock when he finds himself among his scattered sheep, so will I tend my sheep.""
Ezekiel 34 :11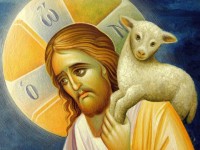 Jesus attracted the crowds like a magnet.   The pressure on him and his apostles became unbearable.  In today's gospel (Mark 6:34-44) Jesus tried to procure some rest for the apostles and for himself but to no avail because no matter where he went the crowds seemed to be there before him.  He was moved with compassion as he looked at them because their hearts were hungering for some meaning in their lives.  So he satisfied their inner emptiness by telling them about the kingdom of God.  As the day wore on the apostles began to worry about the physical hunger of the people.  Evoking the memory of the feeding of the people in the desert with the manna Jesus fed the people miraculously.  The words he used as he broke the loaves and the fishes remind us of his words at the Last Supper when he "took bread, and when he said the blessing he broke it and gave it to them" (Mk.14:22).  Today Jesus looks with compassion at our hearts full if discontent and hungering for something more and he invites us to allow him to feed us with his Word in Scripture and with the Bread of Life.
Prayer
Lord Jesus set our hearts on fire with new hope. Help us to recognise your presence among us in the Scriptures and in the breaking of bread. Amen.