Prayer of the Day
Daily Prayer
June 1st, 2016
"When they rise from the dead men and women neither marry or are given in marriage but are like the Angels in Heaven."
Mark 12 : 25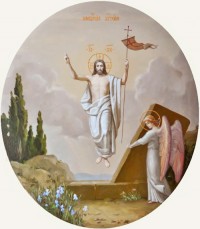 Our Lord was often confronted with 'catch' questions by one or other of the religious groups of his time.  On this occasion it was the turn of the Sadducees,  a group that didn't believe in the Resurrection.  They present Our Lord with an imaginary example of a woman who had been married in turn to seven brothers.   They wanted to know whose wife she would be at the Resurrection.  Jesus was quick to reproach them saying such questions showed they didn't understand either the Scriptures or the power of God.  Hebrew writings always showed Yahweh to bee a God of the living and one whose power was not limited to our lives on earth.
Jesus himself often proclaimed the Resurrection especially when he spoke of Himself as the Bread of Eternal Life.  He assured Martha that her brother Lazarus would rise again saying; 'I am the Resurrection and the Life,  whoever believes in me,  tho' he die, shall live.'  (John 11 : 25)  It's true that Lazarus only recovered the life he had before and he died again some years later.  This wasn't a true Resurrection but it showed the power that Jesus had over life and death.  Its purpose was really to announce the true Resurrection which does not just prolong life but transforms our entire being.
So let us leave the mystery of the Resurrection in God's hands knowing that He who created us wants us to enjoy the fullness of life here and in eternity.
Prayer
Lord Jesus I believe that you are the Resurrection and the Life. I trust you to bring me and all my loved ones safely home to that place which you have prepared for each of us. Amen