Prayer of the Day
Daily Prayer
June 23rd, 2016
"When Jesus had finished saying these things, the crowds were astounded at his teaching, for he taught them as one having authority." "
Matthew 7 : 29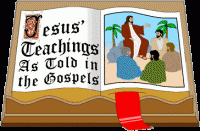 The teachers of the law (religious scholars) often cited traditions and quoted authorities to support their arguments and interpretations. But Jesus spoke with a new authority – his own. He did not need to quote anyone, because he was the original Word. (cf. John 1:1).
The Eucharist which unites us around the same table reminds us that we are one family and that 'all are one in Christ Jesus'.  We enter the kingdom of God, the secure house of faithful love, by doing the will of God continuously and faithfully.
Prayer
Lord, may I always be prepared to find newness each day within your teaching and example. Amen