Prayer of the Day
Daily Prayer
August 3rd, 2016
"Woman you have great faith. "
Matthew 15 : 28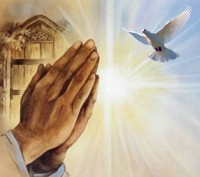 Jesus seems to be turning the woman away whose daughter is tormented by a demon. We all know how easy it is to not get involved – to assume someone else will take care of it; to turn away.
Jesus tested her faith just as he had done with the Apostles, the rich young man and the adulterous woman. Instead of sending her away, he sent her towards The Way.  She is a woman of great faith. She does not bow down to offense, or turn around and walk away. She bears the infirmities of the world to cure the infirmity her daughter bears, for she loves her more than the world!  She is a woman on a mission and she would prefer to die for her daughter rather than return empty handed to her dying daughter. Jesus perfectly understands this woman. She is living what he is living! The Canaanite is experiencing what the Lord asks from us: purification, conversion and imitation.
Prayer
Heavenly Father, Lord of all creation, we ask you to increase our faith in your Son, our Saviour Jesus Christ, who came into the world to humble the arrogant, convert the sinner, and recreate the face of the earth. Make our hearts more like his! Amen