Prayer of the Day
Daily Prayer
October 8th, 2016
"More blessed still are those who hear the Word of God and keep it."
Luke 11 : 28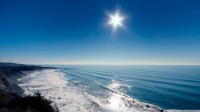 "As Jesus was speaking,  a woman in the crowd raised her voice and said; 'Blessed the womb that bore you and the breasts that fed you.'  But He replied; 'More……'"  (Luke 11 : 27 – 28)
Impressed by what Jesus was saying,  a woman spoke words of praise to His Mother Mary.  But Mary's relationship with Jesus was more than that of a biological Mother;  he qualifies better as one who listened to the Word of God and kept it.  This privilege is granted to all of us.  Mary was the happiest because no one kept the Word of God better than she did.
Prayer
Let us say, Hail Mary, full of grace.... Lord remember me. Amen