Prayer of the Day
Daily Prayer
January 14th, 2014
""At once his fame began to spread throughout the surrounding regions of Galilee.""
Mark 1 : 28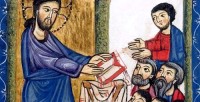 Jesus proclaims the Good News with authority and demonstrates the onset of God's Reign by exorcisms and healings. What has begun in Capernaum widens out to include Galilee. Capernaum seems to have been Jesus' headquarters during his ministry in Galilee.
On this particular Sabbath, as Jesus was preaching, it happened that there was a man present who was possessed by an 'unclean spirit', protests and calls out "What have you to do with us?"  The unclean spirits seem to be saying, "We have done you no harm. Though you have the power, do not harm us, for you have no claim against us." The unclean spirit speaks in the plural: "Have you come to destroy us?"  The unclean spirit speaks for the whole host of demons who are now confronted by the power of God in Jesus. It recognises Jesus as the bearer of the Holy Spirit. Mark links the crowd's astonishment at the exorcism with their astonishment at his teaching. The teaching of Jesus and his power over unclean spirits are seen as facets of one event: both are carried out with authority, affording an insight as to who Jesus is and serving a sign of the Kingdom's presence.
Prayer
Lord, may I always be grateful for the many ways you are present in my life each day. Amen