Prayer of the Day
Daily Prayer
November 5th, 2016
"No-one can serve two masters : You cannot give yourself to God and to money. "
Luke 16 : 13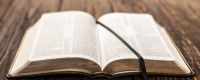 This Gospel explores the relationship between us, God and the use of money. For some the use and pursuit of money is a life-long career. We may know such people or even be related to them .No thing or nothing ever satisfies them. For us Christians –life choices have to be different . When we have what we need for ourselves and families we are obliged to share our material goods and gifts with the world: shelter the homeless, feed the hungry and thirsty , help those in distress. Re-turn our capital to those without any means of survival, and deprived of the world's goods.
Was it Gandhi who said "I like your Christ, but not your Christians"!!!!   When will we learn how to practice what we preach?
Prayer
Lord, give us generous hearts to welcome the poor and lonely into our homes and lives. Open our purses to share our incomes with those who have nothing, and create within our countries a just society. Amen