Prayer of the Day
Daily Prayer
July 2nd, 2015
"When Jesus saw their faith he said to the paralytic; "Take heart son, your sins are forgiven."
Matthew 9 : 2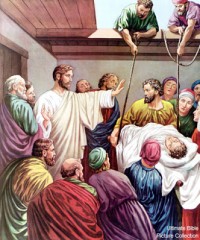 To-day's Gospel story is also related by Mark in a more dramatic way (Mark 2 : 1 – 12).  We're told there that the crowd around Jesus was so vast that the four men,  carrying the paralytic on a bed couldn't get near him.  So they stripped the roof over the place where Our Lord was and let the stretcher down at his feet.  There could be no doubt that these men believed that getting their friend close to Jesus was all that mattered.  Nothing was too much trouble for them.   Now usually it's the person in need of healing who has the faith required but this time we're told that it was the faith of these four men which touched Jesus and brought about not just physical healing but first of all spiritual healing.  It was Our Lord's words; "Your sins are forgiven" which scandalised the scribes who were present and prompted them to accuse Our Lord of blasphemy.  But Jesus was quick to prove that he had the authority to forgive sin when he ordered the paralytic to take up his bed and go home.  And that is what the man did to the astonishment of the crowd who praised God for his goodness.
There is much to reflect on in this beautiful story but perhaps we can think about the faith of those four men who brought their friend to Jesus.   We are blessed that we can daily follow their example by bringing our friends to Jesus in prayer.  All we require is faith in Jesus who is the same yesterday,  to-day and forever. (Hebrews 13 : 8).
Prayer
Lord we bring before you our friends who are in need of spiritual healing especially those who do not have the faith to pray to you themselves. May our faith in you Lord obtain for them that inner peace which only you can give. Thank you Lord. Amen