Prayer of the Day
Daily Prayer
October 30th, 2014
""Jerusalem, Jerusalem, the city that kills the prophets and stones those who are sent to it! How often have I desired to gather your children together as a hen gathers her brood under her wings, and you were not willing.""
Luke 13 : 34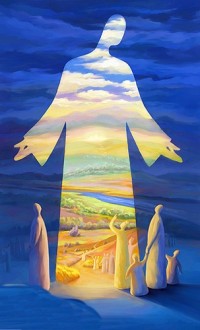 As Jesus comes closer to Jerusalem where he knows his enemies are waiting for him he recalls the repeated attempts by God to send messengers to the Holy City only to be met with rejection.  His lament over the city is surely among the most moving scenes in the Gospel.  Later on we'll see him actually shed tears over his beloved city (Luke 19 :41) but to-day he calls her twice by name – Jerusalem, Jerusalem!   We see here the image of a tender mother who wants to gather her little ones under the protection of her wing.  But they refuse.  They are not interested in God's maternal love.
The fact that Our Lord loved his own people so passionately meant that he felt their rejection more keenly.  What loneliness he must have experienced as he longed for the love of his own children!   We are reminded of the Liturgy of Good Friday when we hear God reproaching his people for their hostility towards him; "My people,  my people,  what have I done to you?  How have I offended you?   Answer me,  answer me."   It looks as if God is a failure when his children reject him,  like parents feel when their children let them down.  But just as a good parent will never give up on her/his child,  so God who has planted that love in a parents heart,  will never give up on us.
Prayer
God Our Father we thank you for sending us your Son Jesus. We ask you to help us make him known and loved. Amen