Prayer of the Day
Daily Prayer
November 19th, 2014
""… To everyone that has, more will be given.""
Luke 11 : 26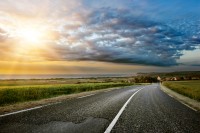 In order to understand the meaning of today's Scripture quotation, it is essential to know the parable from which it is taken. The subject of the story is topical today, when there is so much talk about trading in money. This wealthy man, and entrepreneur, decided to give money to his servants and asked them to trade with it until he returned. He gave varying amounts to the three servants, depending on what he considered each one's capability. On his return he demanded an account of how the trading went. The first two servants doubled what they were allotted, but the third made no effort and simply hid the money allotted to him: he didn't even bother to lodge the money in the bank so that it would yield some interest.
Each of us has talents or gifts varying in kind. We will be called to answer for our use of time and talents. If a gift is not used it perishes. We are expected to work with our talents or gifts. Otherwise, we will lose what we possess, if we do not give them to God or our neighbour. Sin is the abuse of a gift.
Prayer
Thank you, Lord, for the gifts you have given me. Help me to use them for the good of others. Amen