Prayer of the Day
Daily Prayer
November 20th, 2014
""As Jesus drew near, he saw the city and wept over it.""
Luke 19 : 41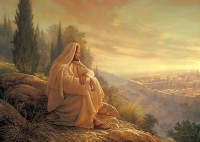 Jerusalem, the city referred to, symbolised the entire nation. However, it had a history of rejecting God's prophets, and it would reject the Messiah, just as it had rejected his forerunners. As Jesus drew near the city, he wept over it, and pronounced the first of three oracles referring to its ruin. When carrying his Cross, Jesus will leave the surroundings of Jerusalem – that will be the third and final oracle. The discourse between the two will announce the siege and fall of the city.
In striking contrast with the joy of his followers, Jesus wept – the one and only time recorded in the synoptic Gospels. The fact that Jesus wept brings home to us his humanity in a striking way. It conveys to us also the compassion of God for his people. In the Book of the Psalms, the Hebrew letter meaning 'eye' or 'spring' is elevated above the others. It is in the middle verse of all the Psalms – Psalm 78 v.18. It is as if God's eye is gazing on us with compassion as we pray the Psalms, and sometimes sheds a tear when he listens to our cry of suffering or distress.
Prayer
Lord, help me to grow in compassion for my sisters and brothers who suffer. Amen