Prayer of the Day
Daily Prayer
January 8th, 2015
""Give them something to eat yourselves.""
Mark 6 : 37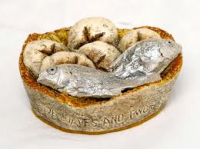 Today as we step ashore with Jesus on the shore of the Sea of Galilee we see a large crowd eager to hear his words.  Jesus is tired but he looks at the downtrodden faces of the people and realises that their lives are meaningless and empty.  Their religious leaders have long since failed to fill their spiritual hunger.  So he begins teaching them.  As evening draws in physical hunger overcomes his apostles and they ask Jesus to send the people away in order to get food.  In a surprising turn of events Jesus asks his apostles to feed the people themselves.  Appalled they tell him that it would cost two hundred denarii to give bread to such a crowd.  Jesus asks what food they have themselves and they tell him that they have five loaves and two fish.   It sounds like a very small amount of food but it is all they have and God in the person of Jesus is able to feed five thousand with it.  This event has Eucharistic overtones.  At Mass we bring our small contributions of bread and wine and just as Jesus was able to transform the
loaves and fishes into abundant food for everyone, the presiding priest,
through the power of the Holy Spirit, is able to feed all the gathered
assembly with the Body and Blood of Christ.
Prayer
Lord of all creation we can never thank you enough for the food you provide for us in abundance every day. Help us to be generous in our sharing with those who find food and shelter very hard to come by. We ask this through Christ, our Lord. Amen