Prayer of the Day
Daily Prayer
January 12th, 2015
""Repent and believe the Good News.""
Mark 1 : 15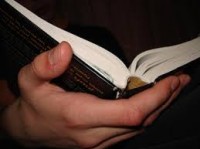 We are all very familiar with the expression 'The Good News' but what is the Good News?  Well it is not a dogma or a Commandment.  The Good News or Gospel is a person – it is Jesus,  the Son of God and Son of Mary.  Pope Francis in his Exhortation 'The Joy of the Gospel' puts it very clearly and simply.  He writes; 'The first proclamation of the Good News must be 'Jesus Christ loves you, he gave his life to save you, and now he is living at your side every day to enlighten,  strengthen and free you.' (Joy of the Gospel No. 1641  – J.T)
This Good News is for everybody.  Nobody must be excluded from hearing the Joy of the Gospel.  At Christmas we heard the Angels proclaim, 'News of great joy which will come to all people.' (Luke 2 : 10)  Jesus founded the Church for this purpose – to evangelise, to proclaim the Good News – to let people everywhere know that God loves them and wants them to be his children.  In to-day's Gospel we hear how Jesus called the four fishermen,  Simon, Andrew, James and John to be his followers.  They responded wholeheartedly.  Our Lord continues to call men and women to bring the Good News to the poor.  There are many ways of responding to this invitation.  our Lady is sometimes described as the first evangelist,  as she brought the Good News of Jesus to Elizabeth and her unborn son, John.   Like Mary,  we carry Christ within us after receiving Holy Communion.  Let us pray that we may bring Him to all those whose lives we touch each day.
Prayer
Mary, Virgin and Mother, you who moved by the Holy Spirit and welcomed the Word of Life in the depths of your humble faith, help us to say our own 'yes' to the urgent call, as pressing as ever, to proclaim the Good News of Jesus. (J.T. 288)