Prayer of the Day
Daily Prayer
January 14th, 2015
""In the morning, long before dawn, he got up and left the house and went off to a lonely place and prayed there.""
Mark 1 : 35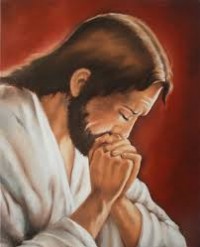 Jesus was above all a man of prayer.  Apart from the vocal prayers which every good Jew recited daily,  he spent long periods in personal prayer – in silent communion with Abba,  his heavenly Father.  it was this that sustained him throughout his busy day.   And according to Mark's Gospel,  Our Lord's days were certainly very busy.  Having spent time in the Synagogue preaching and casting out a devil he goes to Simon's home where he heals his mother-in-law.  No sooner was this woman cured of her fever than she prepared a meal for her guests.  We would hope that after the meal which no doubt included a lot of conversation Our Lord was able to have a rest during the hottest part of the day.  This prepared him for the very busy evening,  when crowds flocked to Simon's house bringing their sick and those possessed with evil spirits.  We're told that Jesus cured many from various diseases and cast out many demons.
Now Our Lord's method of healing was very personal.  For example we're told; "He went to Simon's mother-in-law,  took her by the hand and helped her up." (Mark 1 : 31)   We can only imagine how many hours he must have spent ministering to this big crowd and how tired he would have been that night.  As Baptized people we are all called to continue the mission of Jesus.  This mission will always require fidelity to prayer and a willingness to reach out to others with the Good News of God's love for everybody.
Prayer
"Lord make me an instrument of your peace!" Amen (St. Francis of Assisi)