Prayer of the Day
Daily Prayer
January 29th, 2015
""Yahweh is my shepherd. I lack nothing. He guides me along the right path. He is true to His name.""
prayers-template.php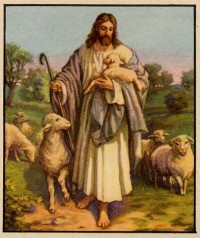 Jesus calls Himself the Good Shepherd.  He is the only gate by which we can enter into Divine Life.  He is calling us to follow Him through that gate.  We,  human beings,  have a unique place in God's creation.  The story of the universe is our story.  For we,  each of us is the universe acting, speaking, loving etc.   God made the universe and everything in it for our use and benefit.  Each one of us has been created by God's love.  It was love that created us – God's love.  That is why we human beings are unique!  So each one of us can say to himself or herself, I am special, unique and we will be telling the truth when we say; "There is no one else in the world quite like me."   We are the universe.  Through us the universe has been brought into Christ.  The Incarnation sanctified us and our world and made us all a holy people.  Baptism is the door through which we enter into God's Kingdom.  The Good Shepherd is there to lead us through that door into our heavenly home.
The parable of the Good Shepherd is one of the most beautiful and the most touching in the Gospels.  Picture the Good Shepherd carrying lovingly the lost sheep on his shoulders.  The loving forgiveness of Christ has accepted us sinners back into the fold.  How gracious,  loving and forgiving is our God.  How wonderful to be warmly embraced by God,  our Father,  when we see Him face to face.
Prayer
Let us pray - With St. Augustine we can say, "You have made us for yourself O Lord and we will never rest until we rest in you."