Prayer of the Day
Daily Prayer
February 4th, 2015
""And he was amazed at their unbelief.""
Mark 6 : 6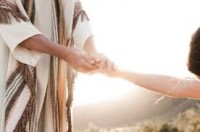 Jesus said that a prophet – a worker for God – is never honoured in his hometown. But that does not make his work less important. A person does not need to be respected or honoured to be useful to God. If friends, neighbours or family don't respect your Christian work, don't let their rejection keep your from serving God.
Jesus could have done greater miracles in Nazareth, but he chose not to because of the people's pride and unbelief. The miracles he did had little effect on the people because they did not accept his message or believe that he was from God. Therefore, Jesus looked elsewhere, seeking those who would respond to his miracles and message.
The query of the people sums up what has transpired: "Where did this man get all this? What is the wisdom given to him? What mighty works are wrought by his hands?" The narration continues: "A prophet is not without honour except in his own country and among his own kin and in his own house."
Prayer
"Lord, I believe. Help that part of me that still doubts. Amen