Prayer of the Day
Daily Prayer
February 7th, 2015
""As he went ashore, he saw a great crowd; and he had compassion on them, because they were like sheep without a shepherd.""
Mark 6 : 34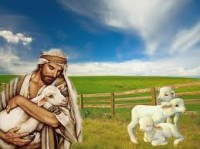 This crowd was as pitiful as a flock of sheep without a shepherd. Sheep are easily scattered; without a shepherd they are in grave danger. Jesus was the shepherd who could teach them what they need to know and keep them from straying from God.
Jesus asked the disciples to provide food for this crowd – over 5,000 people. They asked in astonishment if they should go and spend eight months' wages on bread.  How do we react when we are given an impossible task? A situation that seems impossible with human resources is simply an opportunity for God.
The feeding of a crowd in a desert place evokes the exodus theme. It looks back to the feeding of the Israelites in a wilderness place and forward to the Last Supper. Jesus was himself the feeder of the New Israel in the lonely place, and though the food was for physical satisfaction, its main significance was as the prefiguring of the Eucharist.
Prayer
Jesus, shepherd of my soul, I believe you are always there with your crook and your staff to give me comfort. Amen