Prayer of the Day
Daily Prayer
February 9th, 2015
""All those who touched him were healed.""
Mark 6 : 53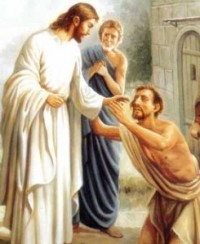 Having made the crossing, Jesus and his disciples came to land at Genessaret and tied up. No sooner had they stepped out of the boat than people recognised him, and started hurrying all through the countryside and brought the sick on stretches to wherever they heard he was. And wherever he went to village, town, or farm, they laid down the sick in open spaces, begging him to let them even touch the fringe of his cloak. And all those who touched him were cured.
Jesus the ''Healer''
The enthusiastic welcome, reception, given to Jesus is the focus in this section of the Gospel. The people's attitudes differ from those of the opponents. They are begging to touch even the fringe of his cloak.  The healing of the woman(  Mark3: 25-34)) conveys the same idea. All who touched him were ''healed'' ''physically and spirituality.
Prayer
Jesus is our example of love and service to all who touched his life. Amen